W8DIR - September 10, 2015
---
Andrew R. Hogue
Canton, OH

QCWA # 13538
Chapter 21
Andrew R. Hogue age 102, of Canton, passed away Thursday, Sept.10, at St. Luke Lutheran Home following a brief illness.

Born in Monroe, Mich., May 8, 1913, he graduated from Canton McKinley, and was employed by Bennet's Appliance in North Canton as a salesman for many years.

He was a member of Crystal Park United Methodist Church of Canton.

Preceded in death by his parents, Benjamin and Pearl (Kiefer) Hogue; and his loving wife, Dorothy L. (Moushey) Hogue, died July 31, 2011; daughter, Susan Hogue; one sister; and two brothers. Survived by a daughter, Myrna Mylius; three sons, Donald R. Hogue, both of North Canton, Kenneth A. (Edith) Hogue, of Canton, Jack D. (Wilma) Hogue, of Massillon; nine grandchildren; 23 great-grandchildren; and two great-great grandchildren.

Funeral service will be held Monday, Sept. 14 at 11 a.m., in the Crystal Park United Methodist Church in Canton with Rev. Jeff Conley officiating. Friends may call Sunday, Sept. 13, 2-4 p.m. in the Waltner-SIMCHAK Funeral Home and also Monday one hour prior to funeral services in the church. Burial to follow at Forest Hill Cemetery.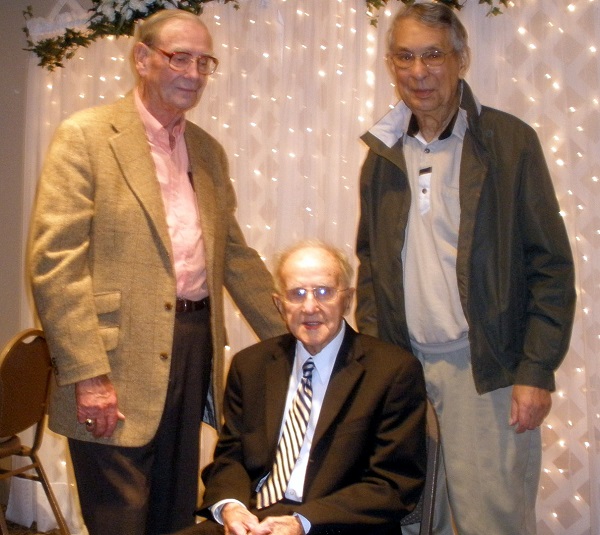 HAPPY BIRTHDAY - 100 YEARS YOUNG
Andy Hogue W8DIR celebrated his 100th birthday at a reception.
L to R, Joe Vignos, W1FEZ and Nelson Caley, W8EAR(sk) joined in wishing him 73.