W1BIH - March 8, 2012

---
John H. Thompson
Plymouth, MA

QCWA # 2927
Licensed: 1931
Plymouth, MA- J. Headen Thompson, 96, formerly of Torrington, CT, died Thursday, March 8, 2012, at the Newfield House, Plymouth, MA. He was the beloved husband of 67 years of the late Mary Engler (Pierson) Thompson who passed away on March 16, 2008.

Mr. Thompson was born in Winsted, CT, on March 28, 1915, son of the late John Headen Thompson, Sr., the editor ("Tomp") of the Torrington Register for many years, and Christina Lavinia (Danvers) Thompson and was a lifelong Torrington resident before he and Mary moved to Massachusetts in November of 2004 to be close to their daughter, Beverly. He earned a B.S. in Electrical Engineering from Worcester Polytechnic Institute (WPI) in 1936 and was a retired Corporate Chief Plants Engineer with the Torrington Co., retiring in 1979 with forty-three years of service. Mr. Thompson was a member of Trinity Episcopal Church, a corporator of the Torrington Historical Society which his father founded, a member of the Torrington Club, the YMCA, local and state planning commissions, and former president of the Torrington Rotary Club which recognized him as a Paul Harris Fellow. His life-long hobby and love was Amateur Radio-he was a member of the CQ Contest Hall of Fame (number 14), the Yankee Clipper Contest Club, First Class Operators Club, the Connecticut Wireless Association and the Quarter Century Wireless Association. Mr. Thompson attended a long-time weekly poker game with a group of friends in Torrington.

Headen and Mary enjoyed traveling and had a winter home for many years on the island of Curacao, Netherlands Antiles.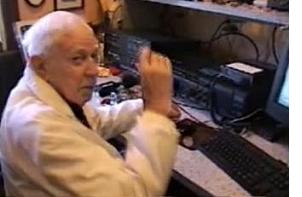 Survivors include a daughter, Beverly Thompson Gardner, and her husband, George B. "Bernie" Gardner, of North Pembroke, MA, a grandson, Alan Thompson Gardner, and his wife, Nora Bethany (Allsup) Gardner, of East Falmouth, MA, three great-granddaughters, Elanor Eowyn Gardner, Lucy Sophia Gardner and Tessa Helen Gardner, four nieces and nephews and many grand-nieces and grand-nephews. Mr. Thompson was predeceased by his wife, 5 year old son, John H. Thompson, III, his sister; Priscilla Danvers (Thompson) Ketchum, and his great-grandson, Ewan Carroll Gardner.

The funeral service will be held Tuesday, March 27, at 11 a.m. at Trinity Episcopal Church, 220 Prospect Street, Torrington, with the Rev. Amy D. Welin officiating. There will be a reception following the service in the parish hall in celebration of Headen's life. Private burial will be in Hillside Cemetery, Torrington. The Gleeson-Ryan Funeral Home, 258 Prospect St., Torrington, is in care of funeral arrangements.

In lieu of flowers and because of Headen's life-long love of Amateur Radio, memorial contributions may be made to the ARRL (American Radio Rely League) Diamond Club, 225 Main Street, Newington, CT 06111-1494 and marked in memory of W1BIH (John/Headen Thompson) or to the Torrington Historical Society,192 Main Street, Torrington, Ct 06790 and marked in memory of Headen Thompson.

---
Just another QSO with Peter One.. But was it? The call was from John W1BIH, a veteran DXer. Now some of you are probably saying, "So what?"

John is 90 years old. Last year he moved into a retirement community and while keeping his radio, he disposed of his tower, beams and linear. John was at his winter home of PJ9JT during the last two Peter One Island DXpeditions. On Thursday 09 Feb, Don N1DG picked John up and took him to his station. About thirty minutes later there was a big smile on BIH's face.

You see, that was John's last country (335 current) and he can now get back on the top of the honor roll. Oh; and by the way, Peter I was his country number 390 (including deletes)!

Congrats, John!

Update: 13 Feb 2006
And there's more to the "John and Peter I" story. He worked 3YØX from his retirement community station on 20M CW with 100w and a G5RV strung from his window 20' above the ground!

Country #335, #1 DXCC Honor Roll, 3YØX
---
I worked PJ9JT on 160, 15 and 10 in 1995 and 96. Bob, NØUF QCWA Webmaster (WAØCLR at the time).