Director 2012 - Present

NL7XM

Pete Varounis
PO Box 3026
Easton, PA 18043

QCWA # 33775
Chapters 17 & 224


---
Pete Varounis / NL7XM has been licensed over 30 years and is a Life Member of QCWA, ARRL, and a loyal Member of the QCWA Allentown-Bethlehem Chapter 17 in Eastern PA.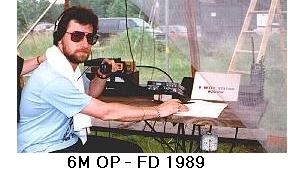 A casual contester, Pete can often be found every October trying to get the sweep in the Pennsylvania QSO Party, or chasing DX on his favorite band, 6m.

He was recently conferred Honorary Life Membership after 10 years by the Delaware-Lehigh Amateur Radio Club subsequent to a successful recruiting campaign that resulted in increasing Membership from 78 to 225 in eighteen months. He also rescued it's jeopardized 501(c)(3) Charitable Organization status after being elected Treasurer of the 60+ year-old Club. He currently serves on the Board as one of its Directors, and as the Program Chairman for the past five years, having secured over 60 different presentations by guest speakers, resulting in average monthly Meeting attendance of 70. He functions as it's Charitable Giving & Donations Officer, it's Newsletter Circulation Manager, serves as the Life Committee Chairman, and organizes the Club's Merchandise Sales.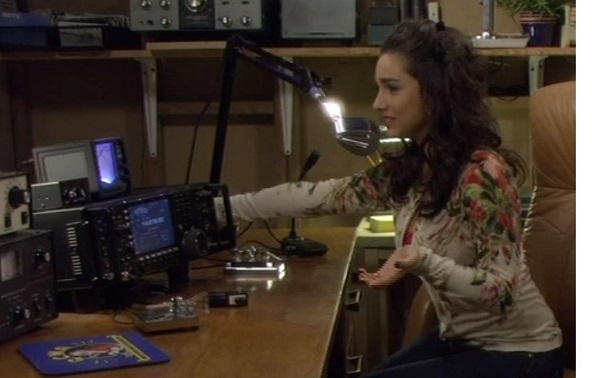 Pete's expertise with Callsigns has earned him a place as a consultant to the producer of Tim Allen's ABC hit TV comedy, "Last Man Standing." Pete had the privilege of designing custom callsigns and assigning them to cast members of the show whenever Amateur Radio is incorporated into the script, and making sure QCWA materials and its familiar logo get conspicuous exposure on national primetime television, (as well as his own QSL Card!)

He is also Member of RCA, AWA, AMSAT, NYCRA, LVARC, Six Club International, SMIRK, A1-Operators Club, UKSMG, and 10-10 International. He is currently the USA Country Manager for the UK Six Metre Club, an international organization for 50mHz enthusiasts, and has earned DXCC and WAS.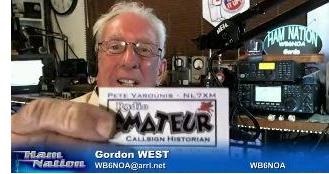 Known affectionately in some circles as "Pete The Greek" he has compiled a vast, 100+ year-old collection of rare Callbooks in his personal library that he uses to conduct research as a Callsign Historian, and is often promoted on Bob Heil's Ham Nation.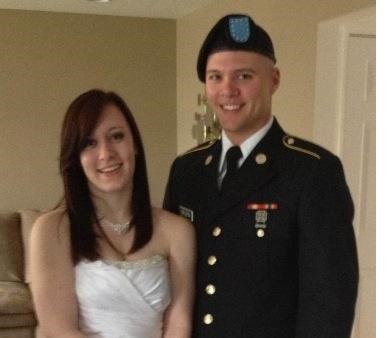 A retired law enforcement superior officer, Pete is a Champion Pistol Competitor, winning 18 Gold Medals in the NYS Police Olympics, and enjoyed displaying them to young men when they came to date his daughter. She has since married a young soldier he approved of, whose initials are, appropriately enough, "KW." And although she (sadly) never adopted his enthusiasm for Amateur Radio, her new initials are now, promisingly, "CW."

Today, Pete devotes his time giving attention to matters that involve promoting Amateur Radio positively. Married with an adult son also, his service to the Board offers a presence to QCWA Chapters and Members in a geographical part of the US that was underrepresented.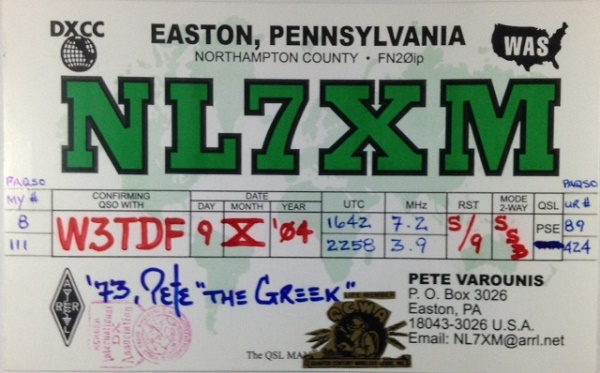 Image from NL7XM
March 14, 2013