KT9X

Lahra M. 'Flip' Svare
Pahrump, NV

QCWA # 38216
First Call: KC7HCB issued in 1994 Other Call(s): KJ7UN
---
Print an INSTANT QSL for our contact at www.hrdlog.net!

I will happily work and log any "dupes" that call me. I would be happy to set up a SKED with anyone who needs it in any mode on any band. Just email me! You can confirm that I haved logged your qso by checking www.hrdlog.net & here on my QRZ logbook. I have a beautiful, full-color QSL card!!

FT8/FT4 contacts are logged when the WSJT-X confirmation box pops up, not necessarily needing "73" to complete. (This is per the FT8 Operating Guide by ZL2IFB, page 21 section 8.8, recommended by K1JT in the WSJT-X guide.)

I log 100% of calls to QRZ, LOTW, HRDLog, eQSL & ClubLog. All of my logs (contest and standard) are uploaded either instantly or daily, depending on the mode. (Contest logs within 48 hours of contest end).

The 9 Bureau FINALLY accepts Paypal, so now I also use the 9 Bureau.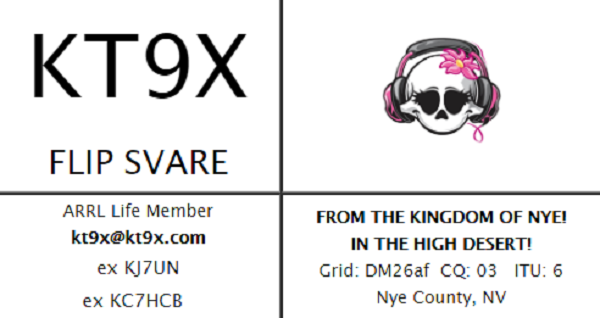 March 20, 2020