K8LBZ - July 21, 2010

---
Director 1991 - 2000

John T. 'Big John' Edel
Masillon, OH

QCWA # 19998

John T. Edel, age 81, of Jackson Twp., passed away Wednesday, July 21, 2010 at The Laurels of Canton. John was born February 19, 1929 in New Castle, PA to the late John & Virginia (Bender) Edel and moved to Massillon in 1958.

He served in the U.S. Navy and received an Honorable Discharge. He graduated from Wheeling High School, received a BS in Education from West Virginia University and a MS Degree from the Tuskegee Institute. For a number of years he taught chemistry and mathematics at Perry High School, Tuslaw High School and finished with twenty two years with Plain Local Schools at Glen Oak High School. His personal interests included amateur radio, Jackson Lions Club (past president), and he volunteered with income tax preparation for AARP. He served on the national QCWA Board of Directors for ten years. He attended St. Jacob Lutheran Church, Massillon. He was an avid bridge player.

John is survived by his wife, Janet Elaine (Snider) Edel, with whom he shared 58 years of marriage. They have four children, John 'Jay' (Debbie) Edel of Findlay, OH, Charla Edel Chrisman of Clearwater, FL, Frank S. (Sheri) Edel of Palm Harbor, FL and Christa (Brad) Wolansky of Wichita, KS. John has six grandchildren and one great-granddaughter.

A Celebration of John Edel's life will be 11 a.m. Monday at the Paquelet Funeral Home in Massillon. The Rev. Lynn Williamson will officiate. Cremation will follow the service.

Friends are invited to call Sunday from 5-8 p.m. at the funeral home and Monday from l0 a.m. until the service.

The family would suggest contributions to the American Cancer Society, Hope Lodge, 11432 Mayfield Rd, Cleveland, Ohio 44106.

Messages of support and sympathy can be sent to the family at www.paquelet.com.

---
John is a retired mathematics, chemistry and physics high school teacher. He was first licensed in 1958 and holds an advanced class amateur license. John is married and has four children. His two sons are both licensed amateurs. The eldest son Jay, WN8HHJ is president of Chapter 18 in Findley,OH. John's wife Janet was the Tour Chairperson for the 1991 National Convention held in Canton,OH.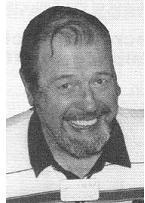 John is a member of several QCWA chapters in Florida as a snowbird including Gator and Pelican. He has been the President and Vice President of Chapter 21 in Canton and an Honorary Member of Chapter 1 in Cleveland.

---
Dear Ham Radio Friends,

John, K8LBZ, passed away this morning at 3:45 am in The Laurels of Canton. Our son Jay, WN8HHJ, is on his way from Findlay to help me make final arrangements. John will be at Paquelet Funeral Home at 1100 Wales Road, NE. Massillon, OH 44746. I am asking that there be calling hours on Sun. eve with the funeral on Mon. morn. We have children in Kansas & Florida with Jay in Ohio. Thanks for all of your prayers & concerns during the last six months.

Sincerely, Janet Edel

---
Many of you will remember K8LBZ, John Edel, when he was a QCWA National Director a few years ago. He has been ill for about 6 months or so. Sue and I saw him about 2 months ago, when we were in Ohio, after the Dayton Hamfest. He was not good then.

73, Ken Simpson, W8EK

---
Pam and I fondly remember "Big John." Our prayers are with him and his family at this time.

73, AL, W2AS
President, Chapter 45
---