K7UGA 1909 - 1998

---
President 1972 - 1973

Senator Barry M. Goldwater
Phoenix, AZ

QCWA # 3567
QCWA Hall of Fame - 1982

OOTC # 400
Central Arizona DX Association

First Call: 6BPI in 1922 Other Call(s): W2ZM and K3UIG



Senator Barry Goldwater, K7UGA
May 29, 1998


Barry Goldwater, K7UGA, died May 29 at the age of 89. Goldwater had suffered a stroke in 1986 and had been in failing health. He was a former US Senator, one time presidential candidate, and a noted radio amateur. He was first licensed in 1922.

As a Senator, Goldwater's legacy included several pieces of Amateur Radio-related legislation including his 1964 bill to allow reciprocal operating agreements between the US and other countries. Goldwater's first wife, Peggy, died in 1986. The couple's two sons and two daughters and Goldwater's second wife, Susan, are among his survivors.

Source ARRL Bulletin

---

DE AGA3C NR8
R 291705Z MAY 98
FM CHIEF USAF MARS/AGA3C
TO ALL USAF MARS MEMBERS AND STATIONS
INFO ZEN CHIEF ARMY MARS
ZEN CHIEF NAVY-MARINE CORPS MARS
BT
SUBJ: USAF MARS BDCST 08/98 (SILENT KEY)

1. IT IS WITH DEEP SORROW THAT WE ACKNOWLEDGE THAT A GREAT AMERICAN: THE HONORABLE BARRY GOLDWATER, FORMER UNITED STATES SENATOR FROM ARIZONA, RETIRED USAF MAJOR GENERAL, AND AIR FORCE MARS MEMBER BECAME A SILENT KEY.

2. IN THE NEXT FEW DAYS MANY GREAT THINGS WILL BE WRITTEN AND SAID ABOUT SENATOR GOLDWATER; HOWEVER, FEW, IF ANY, WILL RELATE THE UNDYING GRATITUDE OF TENS OF THOUSANDS OF MILITARY PERSONNEL SERVING THEIR COUNTRY DURING THE VIETNAM CONFLICT. TO THESE MEN AND WOMEN OF THE ARMED FORCES, SEN GOLDWATER WAS AN UNDISPUTED HERO. HIS LEGENDARY MARS STATION, AFA7UGA (AKA, AFA6BG) LITERALLY WAS THE BRIDGE THAT SPANNED THE DISTANCES FOR UNTOLD THOUSANDS OF U. S. MILITARY PERSONNEL THROUGHOUT SOUTHEAST ASIA. THROUGH THIS MOST FAMOUS OF ALL MARS STATIONS, THE LONELY GI FOUND SOLACE IN A PHONE CALL OR MESSAGE CONNECTING THEM WITH LOVED ONES ON THE HOME FRONT. THIS SIMPLE MORALE BOOSTER MADE THE DIFFERENCE TO THOSE AWAY FROM HOME, FIGHTING AN UNPOPULAR WAR. SEN GOLDWATER NEVER WAVERED IN HIS SUPPORT TO THE FIGHTING MEN AND WOMEN; HIS MARS STATION WAS A TRIBUTE AND TESTAMENT TO THAT COMMITMENT. WHEN AWAY FROM HIS STATION PERFORMING HIS DUTIES AS A U. S. SENATOR, HE ENSURED THE MARS STATION WAS IN CAPABLE HANDS, MANNED AROUND THE CLOCK WITH VOLUNTEERS. THROUGHOUT THE ENTIRE VIETNAM CONFLICT, AFA7UGA LITERALLY HANDLED HUNDREDS OF THOUSANDS OF MARS MESSAGES AND RAN THOUSANDS UPON THOUSANDS OF PHONE PATCHES FROM THE TROOPS, MANY PAID FOR OUT OF HIS PERSONAL FUNDS.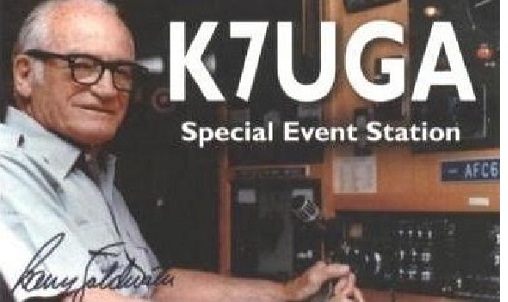 3. SENATOR GOLDWATER WAS A VALUED FRIEND OF BOTH THE AMATEUR AND MARS WORLDS AND HIS PRESENCE WILL BE SORELY MISSED. ON BEHALF OF AIR FORCE MARS, AND THE MANY THOUSANDS OF MILITARY PERSONNEL WHO BENEFITTED FROM HIS GENEROSITY, WE WISH TO PROFFER OUR MOST SINCERE AND HEARTFELT CONDOLENCE TO THE FAMILY OF THE LATE SENATOR GOLDWATER.

4. TO HONOR THE MEMORY OF SENATOR BARRY GOLDWATER AND HIS HISTORICAL MARS STATION, THE AIR FORCE MARS CALLSIGNS AFA7UGA AND AGA6BG ARE HEREBY RETIRED PERMANENTLY FROM AIR FORCE MARS FOREVERMORE, NEVER TO BE REISSUED.

5. SIGNED, RAY COLLINS, CHIEF, USAF MARS/AGA3C

BT

---
I received this photo when Barry met with the St Cloud Minnesota ARC in 1972. As a 24 year old, it was quite special meeting a ham of Barry's stature. The original is an 8 X 10 glossy.

Bob Roske, NØUF (WAØCLR in 1972)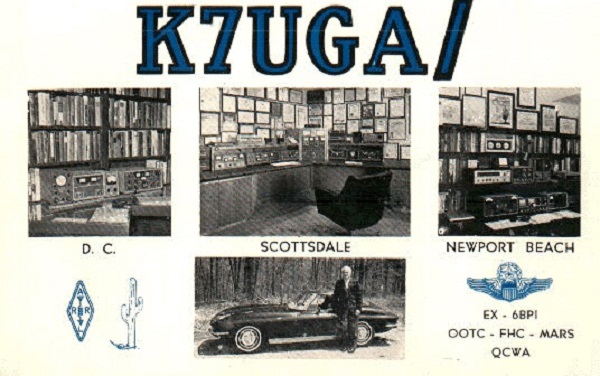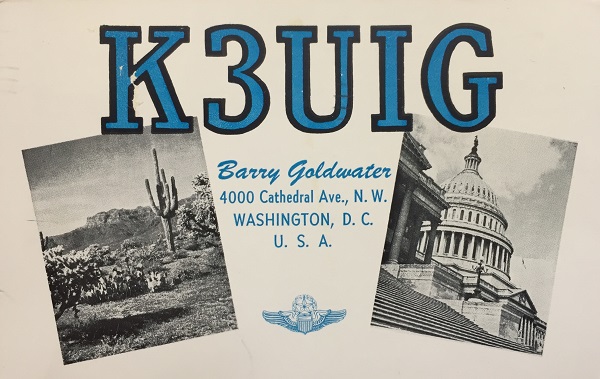 QSL provided by Pete, NL7XM



OOTC # 400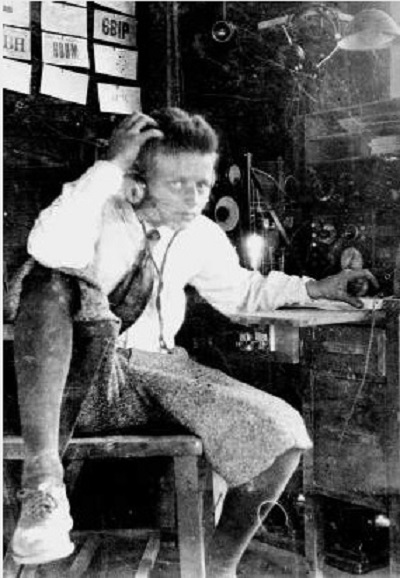 Operating 6BPI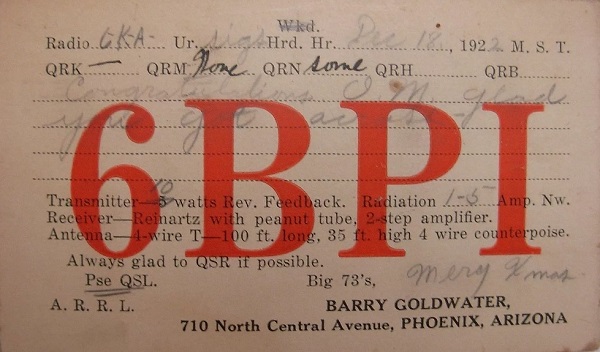 6BPI QSL provided by Pete NL7XM