AD8BC

William P. 'Bill' Cahill
Hurst, TX

QCWA # 36372
Chapter 41
---
Licensed as a Novice toward the end of 1989, at the age of 14, with the callsign KB9DTK. Got my Technician license in March, 1990. Both licenses were attained with the help of training classes provided by the Michiana Amateur Radio Club (MARC, W9AB), in South Bend, Indiana. I was Assistant Secretary and Board Member of MARC for the years of 1992 and 1993, when I resigned to attend my first year of college. I also worked with the St. Joseph County (IN) Civil Defense-Radio Amateur Civil Emergency Service before I attended college. I was also a member of Wayne Zehner's WA9INM repeater group (Plymouth, IN) for one year.

After college, I moved with my job to Grand Rapids, MI. My interest in radio peaked again when I heard that the FCC was going to restructure the Amateur ranks. I joined the Grand Rapids (MI) Amateur Radio Ass'n (W8DC) and the Lowell (MI) Amateur Radio Club(W8LRC). I took my General written exam in February 2000, and became a General class amateur on April 15, when restructuring took effect. I took, and passed my Extra exam (some call it "Extra Lite" as I only had to do the 5WPM code) in June, and successfully received the vanity callsign AD8BC. In 2005, I was elected president of the Grand Rapids Amateur Radio Association, and was reelected in 2006 but resigned early due to my job being transferred to Texas. During my tenure as president we raised $15,000 in grant money to rebuild our club repeater system.

On July 19, 2000 (and a few times since), I have had the privilege of visiting the American Radio Relay League headquarters and operating the W1AW station on 20 Meters, with quite a number of successful contacts.

I am an electrical controls engineer for Siemens Industry (formerly Rapistan Systems) in Irving (DFW) Texas. I live with my wife, Kellie (KC8TSX), our "harmonic" (son) Christopher, and three cats, Baxter, Buttons, and Beckie, in the DFW Metroplex area. Currently a life member of the Grand Rapids Amateur Radio Association, Inc. back home in Michigan, and also a life member of the ARRL. I am also a member of the Michiana Amateur Radio Club where I grew up in South Bend, Indiana, the Dallas Amateur Radio Club here in Texas, and the Quarter Century Wireless Association. I have attended the Dayton Hamvention annually since 2005 and look forward to it each year.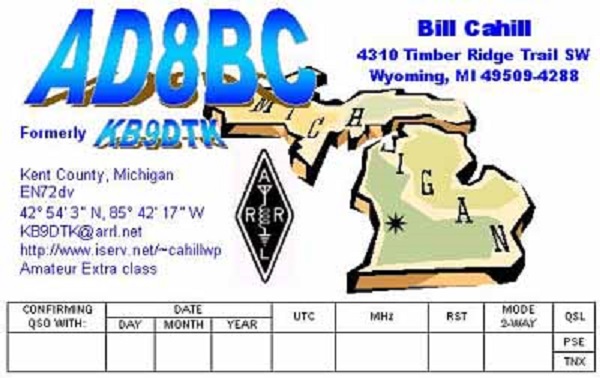 May 29, 2015