WB4OMG

Harmon P. 'Buddy' Morgan
Lakeland, FL

QCWA # 27340
Chapter 128
---
It says "Harmon" on my license, but I go by "Buddy". First licensed in 1969. WB4OMG is the only callsign I have held.

I was active in traffic handling and contests in the 1970's, from Starke, FL. I owned the 147.73 repeater in Starke

Next major period of activity was weak signal work from Treasure Island, FL, from 1995 until 2002.

I owned the 1285.0 repeater in St. Petersburg. I have lived in Lakeland since 2004.

Most of my activity is weak signal work.

I have been married to KF4TPW, since 1981.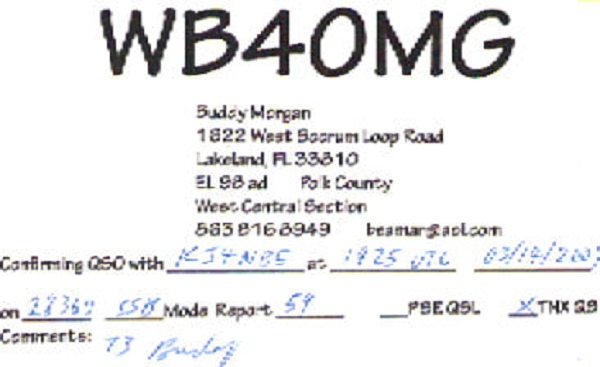 October 17, 2016