WA8YYE

Dan McCabe
Amarillo, TX

QCWA # 34336
---
Dan McCabe, WA8YYE, is one of the youngest members of QCWA Chapter 141. He is also a member of the ARRL, OMISS, and the Panhandle Amateur Radio Club in Amarillo; he serves as its Repeater Trustee.

Today Dan is recognized by most as one of the more technical types, he has assisted many in taking care of problems with their computers and ham gear. Odds are that he spends more time with test equipment and soldering irons than he does on the radio travelling across the ether.

An example of some of his creative mind and work is the bicycle generator that he made to use for the "Alternative Power" category during the 2008 Field Day for W5WX (Panhandle Amateur Radio Club). Using an 18 volt power drill, a tire and axle from a wheelbarrow, and a bicycle, he made a very functional human powered generator for those bonus points.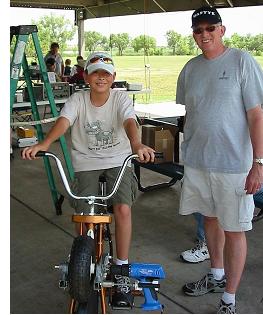 Let's back up just a bit so we can tell more of the story. Dan spent his first school years in St. Mary's Parochial School at Marietta, OH (1956 - 1963). He graduated from Marietta High School, Class of 1967, as an honor student. It was in grades 11 and 12 that he was accepted into a two year Electronics Technology Course that was his academic focus. Several years later, in 1990, Dan completed 45 hours of study at Odessa College (Odessa, TX) maintaining a 3.8 GPA.

Young Daniel McCabe had been pointed to the world of electronics much earlier though. He joined the world of short-wave listening around the age of 10. Popular Electronics was a magazine that found its way into his hands. He stated that his SWL "License" as WPE8HGJ was displayed on the wall over his listening station.

Dan stated that he enjoyed reading the adventures of Carl and Jerry found in Pop 'Tronics. He recalled that one which stuck in his mind centered on a pair of Ultrasonic or Infrared handheld communicators that Carl and Jerry used to foil a crook. "Seems to me they talked around a street corner by reflecting the signal from a store window. Anyhow, I always enjoyed reading those adventure stories and learned a little about electronics at the same time. This would have been in the 60s."

Dan had an Elmer in the sixties. His name was Carl Anderson, he is now a silent key, Carl's call was W8BZ. Dan always looked forward to listening as W8BZ opened a Sunday noon net on 80 meters. He used an old shortwave radio that he had resurrected. Most of the check-ins were AM, but as time passed, more were SSB and he realized the old radio needed replaced.

Dan was first licensed as WA8YYE (Technician Class) in 1967 while living in Southeastern Ohio. His first ham rig was a Heathkit Sixer, known to many as a Benton Harbor Lunchbox.

Think about that one. His first contact may not have been in Morse code, but how many these years made their first contacts using a Super Regen receiver and a low power crystal controlled AM transmitter (QRP levels).

Today Dan's shack has that real hamshack appearance; it certainly doesn't carry that sterile appearance. There are some QSL cards tacked to the walls. Several pieces of ham gear. It does have a modern day computer and a few other nifty items of recent times, but there are also a few working vacuum tube radios. There is also a small workbench that gets used a lot. Somewhere a ticket showing his Amateur Extra status is displayed.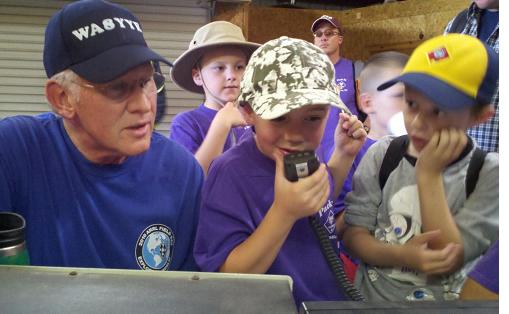 Professionally Dan worked as a Service Manager and bench tech servicing high-end consumer and professional audio and video equipment for nearly 25 years. In 1990 he shifted to the telecommunications profession, worked for several years as a Network Operations Manager, and retired from AT&T (Cingular Wireless) in 2007.

Even though he is "retired," Mr. McCabe is currently involved in a business project; he is the co-inventor of an analog LED controller apparatus to provide specific color indicators for various metering devices.

Other hobbies include hiking/camping, Corvettes, and Jeep off-roading. Better not forget the three Jack Russell Terriers either.

Dan has been married to Phyllis for 29 years. They have three children and five grandchildren. Phyllis is charming, known to some of us for her writing and graphical skills. None of us have been able to talk her into moving into the world of amateur radio, but that's OK.
May 28, 2012