WA5VRL

Willis S. Whatley
Ft Collins, CO

QCWA # 25781
Chapter 143
---
First licensed 1968 as WN5VRL in Corpus Christi, Texas. Held Novice license till 1970. Upgraded to Technician class as WA5VRL at FCC office, Houston, Texas in 1970. Achieved General class in Corpus Christi shortly thereafter.

Married since 1975 to Suzie Moates. (My XYL and best friend.)

Also obtained FCC Radiotelephone license with radar endorsement in Corpus Christi, 1976.

Moved to Loveland, Colorado in spring of 1980, then to Fort Collins in 1990. Kept call and upgraded to Advanced class in the 1980s.

QCWA member and currently active in ARES as well as local storm spotting activities.

Active on 40, 75/80 and 160 meters SSB, AM,CW and most other digital modes. Also on 2 meter and 70 cm FM bands when certain needs arise.

The basement shack is a Kenwood TS-2000 with coax to a homebrew balanced line tuner driving a random length wire dipole fed with 300-ohm line.

The 20 foot pole supporting the dipole has a GP-6 vertical on top for the VHF - UHF operations.

Current occupation (as of March 2015) is RF engineering.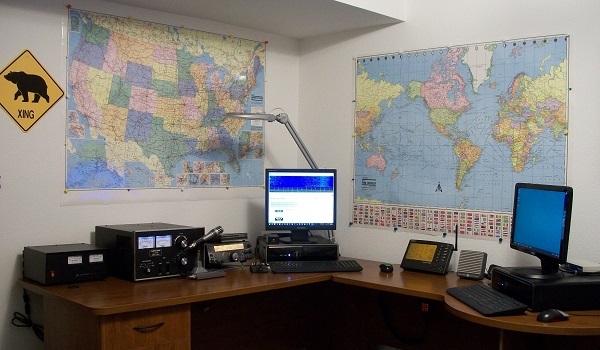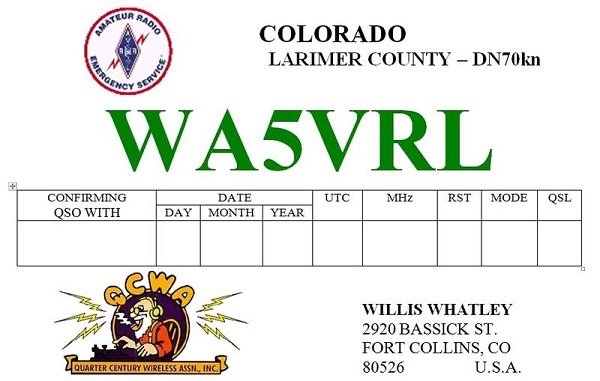 December 14, 2015