WA4DYD

William S. 'Stan' Edwards
Monroe, GA

QCWA # 37774
First Call: WN4DYD
---
First licensed as a Novice in 1961 as WN4DYD, Stan currently holds an Extra class license. He is a member of Clarke County, GA ARES and operates a Winlink gateway station focused on emergency communications. He is a life member of the American Radio Relay League (ARRL). He has completed the ARRL Level I, II and III Emergency Communications courses. He was appointed to the position of Emergency Coordinator in the Amateur Radio Emergency Service (ARES), part of the ARRL field organization, for Gwinnett County Georgia effective April 1, 2002, and served in that position until April 1, 2006. He later served as Assistant Emergency Coordinator for Training in Gwinnett County ARES and afterward in Clarke County, GA ARES. He also served as Deputy Section Emergency Coordinator for GA ARES for a period of time. He has served as Vice President and President of the Athens Amateur Radio Club, Athens, GA. He is also a member of the Walton County Repeater Group. He is a volunteer examiner for the ARRL and W5YI organizations.

Stan holds a Bachelor of Electrical Engineering, an MBA and a PhD in Business Administration and was a Registered Professional Engineer in the State of Georgia until his retirement. He holds a Federal Communications Commission issued General Radiotelephone Operator License (formerly Radiotelephone First Class). He was also a Georgia Certified Emergency Manager - Master Manager, having served as an Emergency Preparedness Coordiantor in public health prior to retirement.

Stan has extensive experience in the communications industry as a user and provider of commercial telecommunications and data processing services. He has served in communications management positions in several industry and government environments, responsible for large multinational communications networks.

Stan also served in the military reserves, retiring in 1995. He served in Air National Guard combat communications organizations as a Communications Engineer, Chief of Maintenance, Chief of Operations, and Commander. He retired after serving a five-month active duty tour as a US Army Staff Signal Officer at Headquarters U. S. Army Forces Command where he was project officer for a study of distance learning options.

Even though Stan is now enjoying retirement, he continues to volunteer with Walton County, Georgia emergency management. He served as Chairman of the Walton County Citizen Corps Council from its re-formation in late 2009 through 2015. He encourages inclusion of Amateur Radio and other volunteer groups in all aspects of the county's emergency preparedness planning, training and exercises.

Stan continues to be involved in various aspects of Amateur Radio and enjoys emergency communications, operating digital modes, experimenting with wire antennas and presenting programs on various amateur radio-related topics. He also enjoys building projects and software programming to support those projects.

When I'm operating from portable locations and using LOTW, do not enter a "/area" after the call, else you will not find a match. Also, if operating internationally, use country prefix/WA4DYD, such as VE/WA4DYD or KL7/WA4DYD as this will be how QSO's will be uploaded to LOTW.

I also upload to eQSL and Club Log. If it's not there, it's not in my log, so do not ask me to verify if you don't find a match. You can check Club Log at https://clublog.org/logsearch/WA4DYD.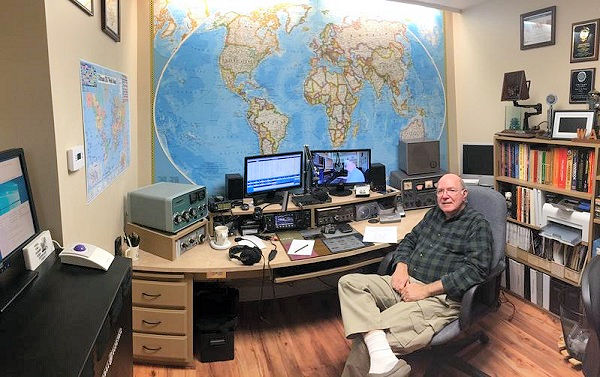 August 31, 2018