WA4AKB

Susan L. Jones
Raleigh, NC

QCWA # 35496
Chapter 126

In front of Discovery
August 7, 2001
---
I live in Raleigh, NC and work at SAS. I am a graduate of North Carolina State University in Electrical Engineering and Computer Science. I am a tutor for Communities in Schools and I attend Millbrook United Methodist Church. I play Hand Bells at Millbrook United Methodist.

In addition to work, tutoring, and church activities, my current hobbies include taking advanced piano lessons from Machiko Cole and learning Chinese in a study group at work. My other personal interests are my adorable nephews, amateur radio, Wolfpack Women's Basketball, the space shuttle, space exploration in general, and (some people say) just being spacey.

I have been a licensed amateur radio operator since July, 1975 when I received my original call, WN4AKB. I earned my Amateur Extra class license on February 18, 2000 (that is with the 20 wpm code test)!

The picture was taken on August 26, 1999 by the late AB4S. This was the fly-over stage of a CARC fox-hunt.

On August 10, 2001, I got to go to KSC to see my second launch of Discovery, this time for STS-105.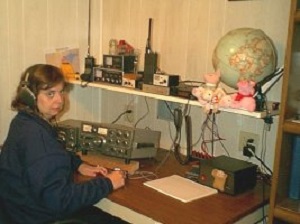 August 21, 2016