WAØLIF

Richard W. 'Dick' Lauhead
St Paul, MN

QCWA # 37562
---
About Me: I received my Novice (WNØLIF) and Technician (WAØLIF) licenses on September 16, 1966 and my Extra class license on July 14, 2016. I've also had the General and Advanced class licenses along the way. I was very active in ham radio in the early 1970s but was inactive from the mid-1970s until mid 2016, when I obtained my Extra class license and became active in the hobby again. My main interests are digital modes (mostly FT8) and CW. I also enjoy contesting. I am a retired electrical engineer.

QSL Information: QSL direct, eQSL, ARRL Buro or SKCC Buro. A SAE for direct QSLs is appreciated, but not required. No return postage is necessary for either U.S. or foreign cards; why should you have to pay twice? I reply 100% to all QSL cards I receive. I upload all QSOs to eQSL and LOTW. If you work me I would appreciate it if you would upload the QSO to eQSL even if you send me a paper QSL card. I am working on numerous eQSL awards.

Memberships:
100 Watts and a Wire: #1973
ARRL: #1128455
Cookie Crumble: #209
FT8 Club #347
QRP Amateur Radio Club International: #16167
Saint Paul (Minnesota) Radio Club
SKCC: #16406
Minnesota Wireless Association
Feld Hell Club: #5966

Things I have Earned:
1000 miles per watt certificate for JT65 & 20 meters (2689.6 miles/watt) #4123
Novice, Technician, General, Advanced and Amateur Extra class licenses (including 13 wpm code test).
ARRL Accredited Amateur Extra Volunteer Examiner
ARRL Code Proficiency certificate (15 wpm)
Numerous eQSL awards (See "Some of my Wallpaper" below)
Winner of several QSO Parties for the highest score from Minnesota

My Equipment: Currently my radios consist of a Yaesu FT-450D transceiver for HF and 6 meters, and a Baofeng UV-52RV2+ handheld transceiver for 2 meters and 70 cm. My power supply is an Alinco DM-330FX. I also have a SignaLink USB interface, Morse Express limited edition 2016 and 2017 Christmas keys, and a vintage paddle key, which is the one I use the most. I also have a Ham Gadgets memory Ultra PicoKeyer which is very helpful when working contests. My antenna is an MFJ off-center fed dipole for 40, 20, 10, 6 meters, but it loads up fine on all the bands with the internal tuner in my Yaesu. I am a big fan of off-center fed dipoles. They work great on multiple bands without a tuner in most cases. My station is grounded with very heavy copper wire to two 8' ground rods bonded together with heavy wire. My antenna is protected by an MFJ lightning arrestor connected to the ground system.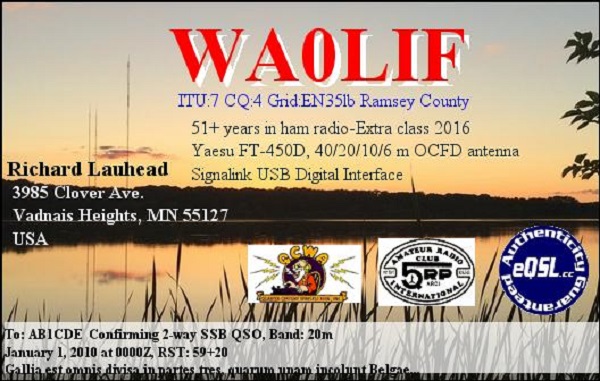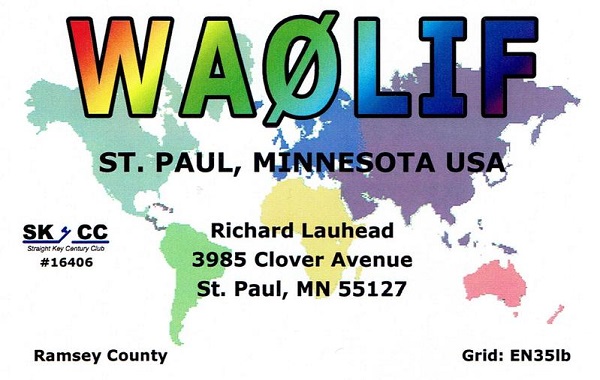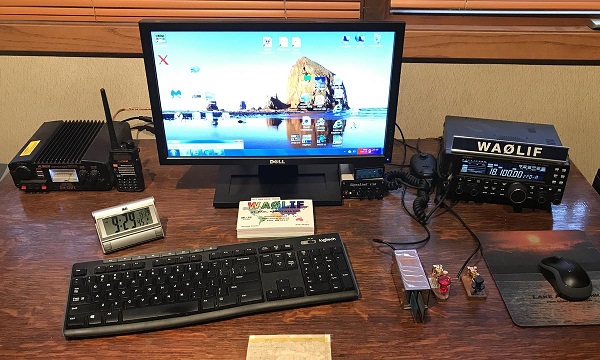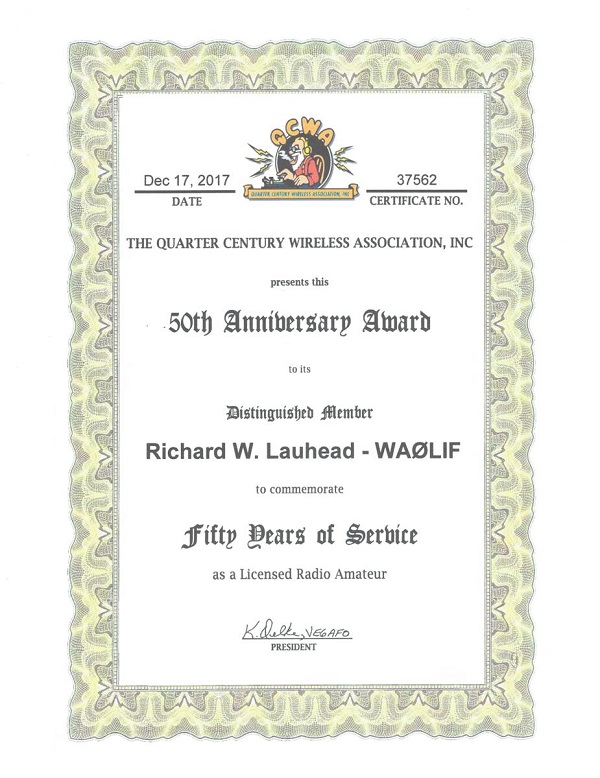 December 20, 2017