W9KT - December 27, 2006

---
Marvin D. 'Marv' Carmony
QCWA # 8267
A1 Operators Club
Terre Haute, IN
Born 1923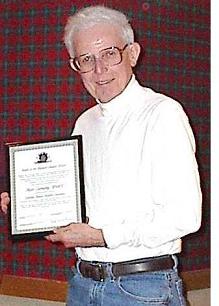 Marv Carmony, W9KT, passed away Wednesday evening, Dec 27th. He was 83. Marv was one of the charter members of Banks of the Wabash Chapter #204. He had been continuously licensed since 1940. He will be missed.

73, Ray, K9DUR
---
Published: December 29, 2006 11:16 pm
Marvin D. Carmony
Dr. Marvin D. Carmony, 83, of Terre Haute died Wednesday, Dec. 27, 2006, at Ashford Place in Shelbyville.

He was born Feb. 27, 1923, in Wayne County to Harry E. Carmony and Fannie E. (Brown) Carmony. He was a professor of English and Linguistics at Indiana State University from 1959 to 1970 and Associate Dean of Arts and Sciences from 1970 to 1988. He graduated from Morristown High School in 1941.

Dr. Carmony served in the Merchant Marines (Coast Guard) from May of 1944 to October of 1946. He was a Radio Officer during World War II and served in the Atlantic, Mediterranean and Pacific. Dr. Carmony served on the S.S. Warrior. After his military service, he worked for American Airlines. He taught at Pendleton High School from 1953 to 1955 and was Sponsor of the Class of 1955. He taught at Shelbyville High School from 1955 to 1958, then at Indiana State University.

Dr. Carmony was a member of several organizations including the American Dialect Society, serving as President from 1980 to 1982; Linguistics Society of America; Modern Language Association of America; American Names Society; and the American Association of University Professors. He was also a member of Phi Delta Lambda National Honor Society; Sigma Tau Delta; National English Honor Society; Phi Delta Kappa Education Honor Society; Phi Beta Kappa Honor Society; and Who's Who in America, 1994.

Dr. Carmony served on the Editorial Board of American Dialect Society; the Editorial Board of American Speech; the Editorial Board of NAMES; and the Board of Directors of Olivet Nazarene University. He was also a member of the Board of Trustees of Olivet Nazarene University; KIWANIS in Terre Haute; and past president of Wabash Valley Amateur Radio Association. He was the founder, past president, and lifetime director of the Quarter Century Wireless Association.

Dr. Carmony has written several publications including Indiana Dialects in Their Historical Settings; Invisible Landscapes of Indiana in the 20th Century; and Co-Author of Indiana Place Names. He attended Olivet Nazarene University where he met Jody Nicholson, who became his wife.

He received bachelor and master degrees from Indiana State University and his doctorate from Indiana University. He was a member of Memorial United Methodist Church in Terre Haute.

He married Mary Joan "Jody" Nicholson on May 31, 1947, and she preceded him in death on Aug. 9, 2000. He is survived by one son, Ronald D. Carmony and his wife Sandy of Crawfordsville; one daughter, Kathy Lynn Carmony of Indianapolis; one brother, Dr. Byron Carmony of Pompano Beach, Fla.; one sister, Charlotte Pitts and her husband Jesse of Brazil; four grandchildren, Allison, Courtney, Chad and Trent; and three great-grandchildren. He was preceded in death by his father, Harry E. Carmony; mother, Fannie E. Carmony; wife, Mary Joan "Jody" Carmony, Terre Haute; four brothers, Cecil H. Carmony, Edwin "Bud" Carmony, J. Paul Carmony and Harry Neil Carmony; and two sisters, Esther Nigh and Lois Posey.

Services are 10 a.m. Tuesday at Morristown Church of the Nazarene in Morristown with the Rev. Mark Fleschner officiating. Interment is in Asbury Cemetery. Visitation will be Monday from 2 to 6 p.m. at the church. Carmony-Ewing Funeral Home handled the arrangements.