W8ZCR - September 4, 2010

---
John W. Missall
Dayton, OH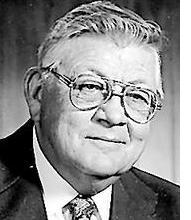 MISSALL, John Walter, II, "Jack" age 90 of Washington Twp., passed away on Saturday, September 4, 2010. John was born in Buffalo, NY on 25 January 1920. His parents were John Walter Sr. and Hattie Joan (nee Nowak).

He graduated from Buffalo Technical High School and received a B.S. Degree in Civil Engineering in 1942 from Michigan State College. Upon graduation, he received his lieutenants commission in the Air Force. He was stationed at Wright Field Aircraft Laboratory where he participated in the design and fabrication of a radio control system to be used for determining the structural integrity of new aircraft by flying the pilotless craft to very high G forces. After the war, he was employed by several construction companies in the Dayton area, and in 1955 he founded John Missall & Co. engaging in construction and engineering. Some of the companys projects included Base Materials Complex for Monarch Marking, and many projects for Miami Valley, Kettering and Good Samaritan hospitals.

Other projects included buildings for the WKRT office and transmitter, Rodgers Pontiac, J.M. Woodhull, Plumbers Union Hall, and F$smp;G Tool and Die. He was a member of the National and Dayton Societies of Professional Engineers, a past Board member of the Dayton Builders Exchange, a longtime member of the Dayton Musicians Union AFM 101, a member of the National Social Fraternity Phi Kappa Tau, a past President of Moraine Civic Association, a member of Sugar Valley Country Club, Church of the Incarnation Parish and Advanced Amateur Radio, License W8ZCR.

John loved his family, the Browns, the Reds, UD Flyer Basketball and playing trumpet with the Joe Aceto Band.

He is survived by his wife, Betty Lucille (nee Brandenburg) from Wilmington, Ohio, with whom he shared 66 years of marital bliss. …. They had 6 children and 12 grandchildren and 4 great-grandchildren. Condolences may be sent to the family at www.routsong.com. In the words of the old ham radio operator - "W8ZCR 73 SK".