W8UI - November 7, 2009

---
David L. 'Dave' Mays
St Marys, WV

David L. Mays, 67, of St. Marys, WV, died, November 7, 2009, at the Marietta Memorial Hospital, Marietta, OH. He was born, September 7, 1942, in Charleston, WV, a son of the late Bernard Haven and Vera Rose Beller Mays. He was a 1964 graduate of Alderson-Broaddus College, Philippi, WV, with a degree in Chemistry. He was retired from Allegheny Power after 31 years service. He was a member of the St. Marys United Methodist Church. He was the initial Scoutmaster for Boy Scout Troop 225, serving for 10 years and was active in scouting for many years on the Council level. He had been scoutmaster for a National Jamboree Troop, and he taught merit badge midway. He was recipient of the Silver Beaver Award, and the Cross and Flame Award of the United Methodist Church. He was active in Ham Radio, having been licensed for 50 years and was President of the local Quarter Century Chapter. He was editor of the Blennerhasssett Bicycle Club Newsletter, and a member of the Mountaineer Woodturners Club. He was a counselor and friend to men with prostate cancer. He was a friend to anyone who needed anything. His hobbies were numerous, including woodworking.

He is survived by his wife of 46 years, Patricia Hines Mays, two children, Dr. Melissa Glasser and her husband, Daniel of Marion, IA, and Ibrahim Hakki (Carl David Mays) and his wife, Gayle of Parma, OH; grandchildren, Zahra Hakki, Omar Hakki, Laila Hakki, David Glasser, and Michael Glasser; foster parents, Florence and Ned Reneau of Grafton, WV; two sisters-in-law, Luster Smith of Pennsylvania, and June Snodgrass of North Carolina; brothers and sisters, Sara Eckert of Ironton, OH, Bernard Mays, Jr., Paul Frederick Mays, Maria Mays, and Vera Mays all of Milton, WV, and Edward Mays of Charlotte, NC; and many nieces and nephews. He was preceded in death by his parents.

Services will be held Wednesday, November 11, 2009, at 12 noon at the St. Marys United Methodist Church with Pastor Pam Shuman officiating. Friends may call from 2 to 4 and 6 to 8 P. M. Tuesday at the Ingram Funeral Home, St. Marys, WV. The family requests that memorial contributions may be made to Boy Scout Troop 222, c/o St. Marys United Methodist Church, P. O. Box 100, St. Marys, WV; or the American Cancer Society, c/o Carrie Carder, P. O. Box 117, Belmont, WV 26134; or the St. Marys United Methodist Church, P. O. Box 100, St. Marys, WV 26170.
---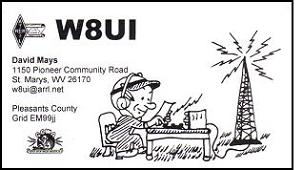 Celebrating my 51st year in the hobby this year, I was frst licensed in 1958 as KN8MYU while a junior in high school, Grafton, WV. A mutual friend introduced me to K8CRM (now KH3AE) who gave me a license manual and an ARRL book, How to Become a Amateur Radio Operator. I had already learned Morse Code in my Boy Scout troop so that made it easy to get a license.

My main mentor and Elmer was my chemistry/physics teacher, W8NTV, who held code and theory classes after school. There were 12-15 hams in our high school and another 25 or so hams in our community. In my senior year I upgraded to the Conditional Class license becoming K8MYU.

In 1976, I upgraded to Extra Class and moved to PA becoming W3INI. The following year I returened to WV and became W8UI. My main interest in ham radio through all the years has centered on CW activity and building equipment. One project in the mid 70's was building and operating a repeater licensed then as WR8ABB.

After 31+ years working in power generating plants around WV and PA as a chemist and supervisor, I retired ten years ago to enjoy woodworking, travel, bicycling and of course more activity with ham radio.

I am a Life Member ARRL, A1OP, FISTS #10112, SKCC 1604, and QCWA #32034