W8SS

Joe E. Mesh
Hell, MI

QCWA # 22859
Chapter 10
---
QSL INFORMATION:

The new "W8SS QSL Card from HELL" is currently printed and available. Also Watch K8LCD for news on D-Star developments As K8LCD is now on the air with a full D-Star stack.

DX stations confirming contacts DIRECTLY to P.O. Box 1 Hell, MI 48169 USA will receive a direct four-page full color multi-image QSL with photos of the radio room, the antennas, the operators and Hell MI. My card also includes an informative text of several paragraphs concerning the history of this area including modern day Hell. My wife Aline (W8SSS) enjoys receiving international mail. DIRECT QSLs will receive the new QSL card quickly. DIRECT QSLs received will have my card returned to them via air mail. It will be sent in an envelope within two days from Hell, Michigan.

I hope to hear you on the air again and I look forward to receiving your DX QSL card DIRECT as does Aline. Thanks for looking us up on QRZ.com!

HF STATION INFORMATION:

My twelve year antenna farm project is now complete and on the air!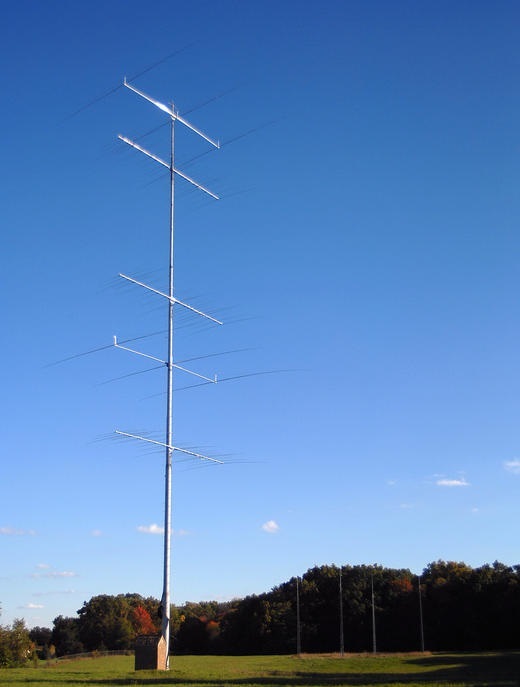 On 80M I bulldozed a mound of earth to level for a full sized 80M vertical four square and then shaped the earth for the radial ground system to gentlely slope away. The earth conduction was enhanced by expanded copper mesh screen buried 6 inches below the earth's surface. This extends entirely underneath the four square area and extends one quarter wave in all directions. A total of 21km of copper ground wire have been similarly buried and soldered to the expanded copper mesh screen extending in all directions and spaced 1.5 inches apart. An elevated radial system was not possible as we farm the entire area and tractor access is required. Four resistor terminated Beverage wires complete the HF receive antennas. They are each ~330feet long.

For 40M through 10M my antennas are monoband wide-spaced full-sized yagis mounted on a 200 foot self-supporting rotating pole with digital position control. The current final configuration includes a full size 3/3 40M wide spaced array, 5/5/5 on 20M, 8/8/8 on 15M and 13/13/13 on 10M. All 20, 15 and 10M elements including the individually fed balun driven elements are interlaced on 51 foot booms. The phasing networks located in a free standing masonary building at the tower base are remotely switched. ELNEC was used extensively to optimize the pole positions and the element lengths and spacing for maximum gain, optimum pattern and minimum interaction.

Currently radios for HF include an Icom IC-7850, an IC-7800 and an R-9000 receiver. I occasionally also run an Alpha tube type amplifier on HF with an 8877 final. I love the old IC-970 and I have two of these in place in the station to support transceive efforts from 144MHz through 2Ghz. One room in the QTH is a dedicated radio room (shown above)and all of the equipment is custom built into the operating desk. This room also includes a complete station antenna patch panel custom mounted into the wall, an RF monitoring oscilloscope, antique Heath digital clocks and video home entertainment equipment including a home video modulated distribution system that includes images of the antenna locations, the perimeter and pet areas. Two complete single point grounding halo systems are provided for both the shack and the outdoor masonry antenna network buildings.

Emergency power is provided by an auto-start 50KW generator powered by a Ford 460cui V8. An auto-transfer switch completes the emergency power provisions and both the generator and the transfer switch report digitally concerning nearly every power generation and mechanical parameter on the home computer LAN. A VPN allows remote access to these and all LAN features.

Rig audio was my ongoing project for several years. Currently the audio chain starts with an Electro-Voice RE20 in an air suspension mount feeding a tube type 12AV7 preamp. This output is fed to an external DSP through a chain of DBX and Aphex shapers. This transmit audio feeds all of the station's radios simultaneously. Receive audio is similarly shaped and amplified then distributed through a multiroom distribution system so that I can enjoy it throughout the QTH. Similarly a stereo headphone network connects and distributes all of the radios to a noise cancelling Bose Aviation headset with boom mike also fed to the transmit audio shaping chain.

Station automation is in place and includes QRZ.com lookup and data transfer to log, radio frequency and mode setup and antenna rotation to correct position. Remote entire station operation via a VPN on my home computer network is also planned and currently working but not yet fully implemented for band switching. A new solid state low power amp will be added soon to support this remote station operation automation and band changing. An additional 200 foot tower for primarily VHF/UHF is also planned for the near future which will support alternative HF receive antennas and possible WARC band antennas. The very next station project includes adding microprocessor controlled switching for the phase networks for the yagis and antenna switching efforts.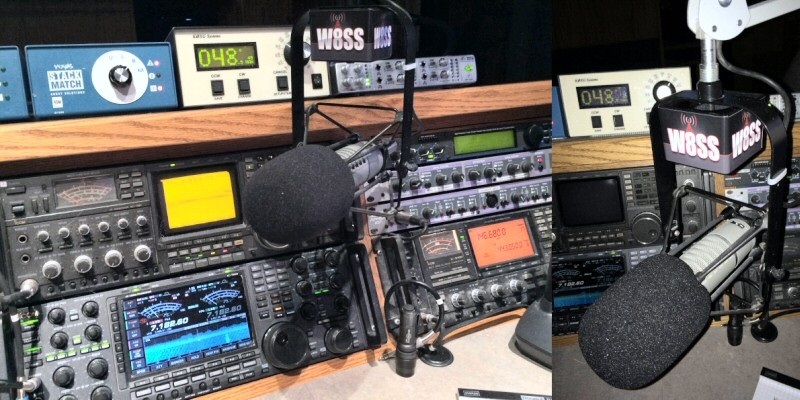 Here are two views of my new mic flag! I'm not certain why I needed it but emulatng a broadcast station has to be a part of it!

ABOUT US: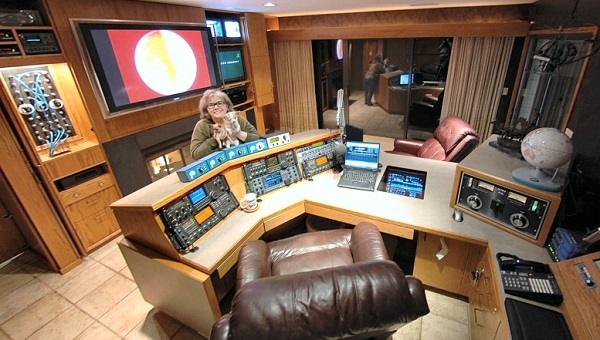 My wife Aline (W8SSS) loves to receive DIRECT QSL cards and I thank you in advance for yours. Aline also enjoys practicing speaking with French language speaking DX amateurs on the air when she is present in the radio room. W8SSS Aline is an avid agriculturist and continuously pursues gourmet culinary activities in her kitchen when not performing root canal therapy. She loves pets of all types (no insects or reptiles please!) and we have several dogs and cats around us most all of the time. Some even travel to work with us.

Rio the amateur radio Chihuahua is the most frequent presence in the station as he oversees and certifies all station operations. When it comes to "rag chewing" Rio barks to remind me to perform 10 minute IDs to comply with FCC regulations.

For additional non-station information and photos please visit our web site at: http://DRsMesh.com.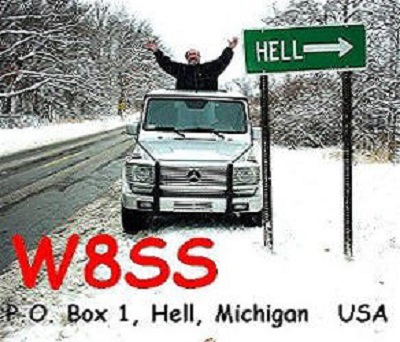 September 01, 2015