W8RJL

Ronald R. 'Ron' Young
Virginia Beach, VA

QCWA # 30078
Chapter 119
---
I learned Morse code in the Boy Scouts and at age 12 obtained my Novice license (WN8RJL) at the 1954 Dayton Hamfest, got my General ticket in 1955, and my Extra in 1969. My Father is W8BQJ, my Mother is KA8HED, my XYL is W4JJY, and my Uncle W8BJI is a silent key.

I grew up in Chillicothe, OH and attended Ohio University & Ohio Technical College. While a college student I obtained my First Class Radio Telephone license with RADAR endorsement and worked part time for WBNS-TV and WMNI Radio in Columbus Ohio. After obtaining my Electronics Engineering Technology degree in 1961 I went to work for General Electric Ordnance Systems in Pittsfield, MA as a Field Engineer working on the Navy's Fleet Ballistic Missile Program (Polaris, Poseidon and Trident submarines). I have lived in Hawaii, California, Washington, South Carolina, Virginia and Massachusetts but spent many of my 33 year defense electronics career at the Naval Guided Missile School here in Virginia Beach. I retired from GE/Lockheed Martin in 1995 at age 55. After a couple months around the house I tried to tell my XYL how to wash a head of lettuce. She said 'why don't you get a job' so I became a Senior Radio Communications Systems Analyst for the City of Norfolk, VA repairing and maintaining radios and radio systems. I enjoyed working on VHF/UHF repeaters and a three site 800 MHz Trunked Radio System. Going to work each day was like going to a radio hobby. After 10 years at the Norfolk Radio Lab I was age 65 so decided to retire for the second time. I now enjoy family & friends, ham radio, photography and I have learned to stay out of the kitchen ;-)

I am past president of QCWA Chapter 119, VP and president of the USS Wisconsin Radio Club N4WIS(Battleship Wisconsin) a museum ship in Norfolk VA, past president of the Virginia Beach Amateur Radio Club, past president of the Virginia DX Century Club, and a member of the Potomac Valley Radio Club (Contest Club). I am also a MARS member, AFA3RY. My operating modes are 80% CW and 20% SSB.

My other hobby is photography which I have been doing for 54 years. I did freelance photography for a number of years but found everyone wanted the photos 'yesterday' and 'cheap' so I now shoot what I want when I want and it is much more fun. I have gone digital using a Nikon D70 camera and PhotoShop software.

At the moment my station consists of an Icom IC-756 Pro 3, Ameritron AL82, and a 3 element SteppIR Yagi. I am QRV on 160 - 6 meters so if you need a Virginia or Isle of Wight County QSO send an email and I will be glad to set up a schedule.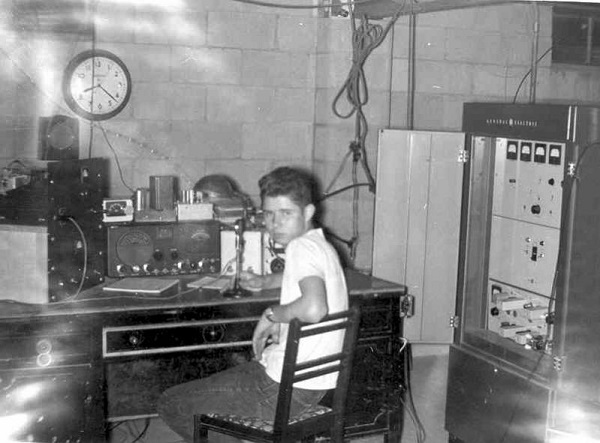 ~1956 - Hallicrafters S-76, Heath VFO &modified ARC-5, and folded dipole antenna for HF. Homebrew grounded grid converter and modified GE commercial "studio to station" transmitter, and 5 element home brew Yagi at 60 feet on 6 meter AM. What a thrill to work Africa on 6 meters.

73,
Ron W8RJL

February 27, 2015