W8JGP - May 2, 2005

---
Donn Nottage
Born April 8, 1935


May 2, 2005 Donn R. Nottage, W8JGP, 70, of Skaneateles, died Monday, May 2, 2005. He was born in Cleveland, Ohio, the son of Albert C. and Madeline Agnes Nottage.
He was a physics major at John Carroll University and received a Master's Degree in illuminating engineering from Case Western Reserve in Cleveland.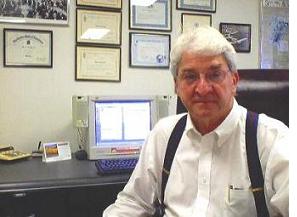 He served in the U.S. Army and held the world record in the All American Army Team for distance rifle.

He had a diverse background in research and development with General Electric Co., which progressed into a sales and marketing management position. He began his own business 22 years ago, Nottage & Assoc., Inc., specializing in the sale of high tech passive and active electronic components and systems.

He was an active amateur radio operator for 54 years. Memberships include the AOPA, NRA, ARRL, QCWA, Skaneateles Rotary Club, and past president of the Skaneateles Lions Club.

Surviving are his loving wife of 19 years, Frances A. Nottage; children, Lynnette (John) Agnew, Gregory (Claude) Nottage, David, Robert and Leesa Nottage; stepdaughter, Kelly; brother, Albert C. Jr.; and sister, Jane Ann (Jack) Wurts.

Services will be held 9 a.m. Thursday at the Robert D. Gray Funeral Home, Skaneateles, and at 9:30 a.m. in St. Mary's of the Lake Church, Skaneateles. Burial in St. Mary's Cemetery. Calling hours are Wednesday 4 to 8 p.m. at the funeral home, 49 Jordan St.

Contributions may be made to the Myelodysplastic Syndrome Foundation in memory of Donn Nottage, PO Box 353, Crosswicks, NJ 08515.

Published in the Syracuse Post Standard on 5/3/2005.
---
Donn Nottage-W8JGP died on Monday after a long battle with several debilitaing illnesses. It wasn't untill Donn and I were talking after a club meeting that we realized that we had grown up within several miles of each other in a suburb of Cincinnati, Ohio - but never met till we both ended up in Syracuse.

Donn's obituary is attached as is the photo that appeared with it. Donn was very active in the public service aspects of amateur radio and I'm also attaching a photo of him in the Emergency Operations Center in Hamilton County, Ohio in the 60's - Donn is on the right and on the left you can see some of the high tech/high speed communications equipment - a Mod 33 Teletype that chunked along at 110 characters a minute. Another photo of Donn in his station in the late 70's is also attached.

He also actively promoted amateur radio to the community and I fondly remember those times he dragged me off to some group such as the Rotary Club to give a talk on amateur radio - at least I usually got a free meal!

73, Steve-N2TKX