W8BFQ - October 23, 2009
'W 8 Bare Foot Queen'
---
Margaret L. Roberts - W8BFQ
Bristol, TN
QCWA # 27530
OOTC #3401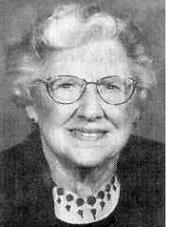 Margaret Louise Roberts, BRISTOL, TN
Margaret Louise Roberts, 98, passed away on Friday, Oct. 23, 2009, in Johnston Memorial Hospital.
She was a member of AARP and the local radio club. Her call number was W8BFQ. She had been a duplicate bridge player and was a winner of the ACBL Bronze Life Master Certificate.
She was the widow of Gerald Roberts, with whom she traveled extensively and shared many interests during their 50 year marriage. She was also preceded in death by her brothers, Rolland, Raymond and Richard Bowers; and their wives.
Prior to her death, she was the oldest living member of First Baptist Church. Survivors include many nieces and nephews; including Bristol residents Albert and Linda Bowers, John Bowers and Beverly Bowers.
The funeral service will be conducted at 2 o'clock Wednesday, Oct. 28, 2009, her 99th birthday, in the chapel of First Baptist Church with Dr. David Stancil officiating.
The family will begin receiving friends 45 minutes prior to the service. In lieu of flowers, memorial contributions may be sent to First Baptist Church, 1 Virginia Street, Bristol, TN 24201.
---

At 97, ham radio operator still scanning the airwaves - - - by Katie Britt
Published: November 25, 2007 - SPECIAL TO THE HERALD COURIER

BRISTOL, Tenn. At 97, Margaret Roberts is lucid and lively and the owner of a new pacemaker.

"The doctor said they normally wouldn't give a pacemaker to someone her age," said her niece-in-law, Linda Bowers. "But he checked her out and said she was a good candidate."

Roberts has more than just her good health to surprise people. She has been a licensed amateur radio operator, a 'ham' since 1947 and still broadcasts today.

She first became interested in radio in 1931, during her fourth year of high school. Her late husband, Gerald, was a radio engineer and, living in Ohio, they did experimental work in radio together.

"It was quite a life to be at the beginning of radio," Roberts said. "Somebody had to get in there and work at it, and find out what could be done."

Her husband built the equipment "transmitters and receivers" while she handled things on the vocal end.

"He knew how to build the equipment and didn't have time to do both, so I did what I could do, the talking," she said.

Their signals, however, began to interfere with the neighbors' television sets, so Margaret and Gerald started looking for a place in the country. They eventually traded homes with a family who wanted to live in the city, and made a new home for themselves in a place called High Point in Summit County, Ohio.

There, they built two radio towers out of scrap aluminum from World War II.

They were living 1,420 feet above sea level in rural Ohio, where interference was no longer an issue.

Roberts looks back on those times fondly.

"There were a lot of things that we found out," she said. "It was very interesting, and I spent a lot of time making contacts all over the world."

Her QSL code, by which other operators could identify her, was, and still is, W8BFQ. The 8 signifies that she got her license in Ohio.

People call her the 'barefoot queen,' because of the phrase 'running barefoot' which means the transmitter is operating without much power.

By 1948, Roberts received a certificate stating that she had communicated with each of the six recognized continents, North America, South America, Antarctica, Europe, Asia and Oceania.

She has a box of QSL cards showing the codes of operators with whom she has communicated, and the dates and times of those communications, to prove it. "I just had a wonderful time talking," she says.

Roberts has received various certificates of recognition during her time as an amateur radio operator, including one from the U.S. Air Force, which recognizes her for: "PARTICIPATING IN THE COOPERATIVE NETWORK OF RADIO AMATEUR OPERATIONS ... OBTAINING SPORADIC E DATA DURING THE PERIOD 20 NOVEMBER 1950 TO 31 OCTOBER 1951."

Margaret acknowledges that amateur radio can be useful during times of crisis and wishes it were a more utilized tool.

Charlie Stuchell, a member of the Bristol Amateur Radio Club and Roberts' friend, says she brings up a good point.

In an age when countries in turmoil are cutting communications outside of their borders and major weather happenings are crippling communications systems, ham radio "amateur radio" is an excellent source of information.

"You can't turn off amateur radio," Stuchell said.

Stuchell, who has been an operator since 1963, says amateur radio remains very much a man's world. "Women are very rare," he said.

Licensed since 1947, Roberts has been a fixture in this man's world for 60 years and is anxious to get back on the air after getting a new pacemaker.

Fellow ham radio buffers are "asking about me every night", she said.