W5WOM

Robert P. 'Bob' Carrick
Clint, TX

QCWA # 28030
Chapter 64
---
I was born/adopted out of Quincy, Illinois (1955) but grew up in Albuquerque, NM. Due to my father's employment we moved to Nebraska in 1970. I was first licensed in Omaha, Nebraska c.1970 as WN0DHR with the help of Elmer, Ray Dusatko (SK), W0SPL (A great man and we both played the Tuba!). I then earned my General...WB0DHR. The day after High School Graduation I moved back to Albuquerque, NM and became WB5MZF. I Acquired my W5WOM after my father passed away in 1997. It was his call number since 1951. He had been a ham since 1938.

I am still active on CW/SSB and a BIG THANK YOU to the people who put up some antennas for me since I can't do that anymore. I now have a 160 meter loop up 20-25 feet, full size 160 meter dipole, and a GAP Titan. The long lasting results of a terrible car accident back in 1972, hard mining work, heavy industrial jobs and standing and teaching all day, my severe arthritis finally took its toll on me. I am retired with Social Security Disability And A Small School Pension.

OMISS Number Is 3267
QCWA Number Is 28030
Straight Key Century Club Number Is 11211
Grid Square: DM61vn

I Enjoy Long QSO's And Making New Friends.

73,
Bob

P.S. I am working on numerous rigs. Collins: R390A, Hammarlund: SP-600, HQ-140X, Hallicrafters: HT-37, HT-32, SX-110, S-53, SR-160, Heathkit: SB-220 (160 mtr conversion), DX-60A, HW-100, HW-101, Drake: TR4CW, Kenwood: TS-700, Johnson: Courier, Viking II, Military: BC-348Q, ARC-5 Transmitter And Receiver Units. I Have Boxes And Boxes Of Parts But I'm Always Looking For More.

Not all at once! I'm Taking it easy!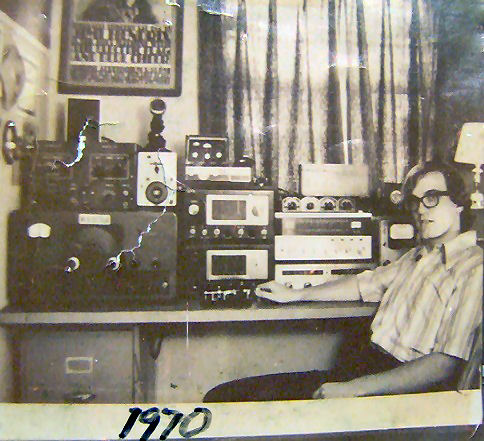 August 15, 2015