Director 2014 - Present

W5NZ

Mark S. Wintersole
6481 Eastwood Glen Dr
Montgomery, AL 36117-4713

QCWA # 33288
Chapter 40


---
My association with the world of electronics began in 1971 when my Grandfather interested me in shortwave listening. My horizons were significantly broadened with licensure in the Amateur Radio Service in 1975 at the age of 15. Following part-time jobs in commercial 2-way radio, broadcasting, and with the local electric utility, I graduated from college with a BS in Electrical Engineering. I was then commissioned as an officer in the US Air Force, where I served in the airborne command & control, nuclear command & control, and communications/information management arenas. Somewhere in between the many all-expense paid trips to the world's most .interesting. locales, I picked up a Master.s Degree in technology management.

Following retirement from the military in 2004, I was finally able to put down roots and become more active in ham radio, serving as President/Founder/Trustee of the Montgomery EMA Amateur Radio Club, President (2 terms) of QCWA Chapter 40, President of the Montgomery Amateur Radio Club Inc, and ARES Emergency Coordinator for Montgomery County. I presently serve on the Board of Directors of the Quarter Century Wireless Association (QCWA), Inc. and am Chairman of its Chapter and Member Relations Committee.

In my 40+ years of hamming, I've received the QCWA Meritorious Award, ARRL Public Service Commendation, the ARRL Certificate of Merit for search and rescue operations, as well as being recognized by the Governor of Alabama for Hurricane Katrina support. I presently hold an Amateur Extra Class license and am a member of the ARRL, an ARRL Volunteer Examiner, ARRL Certified Instructor, member of ARES, and a Net Controller (and past Net Manager) for the Central Alabama SkyWarn program. I'm also a member of the Straight Key Century Club, QRP ARCI, European PSK Club, Rag Chewer's Club, Flying Pigs QRP Club, and 30m Digital Group, among many others. I love to pound brass and work the many digital modes available. I'm an avid contester, where you'll usually find me competing in the QRP category. If you can't find me on the air, check out the area lakes where I'll probably be trying to scare the local bass population.

73 de W5NZ!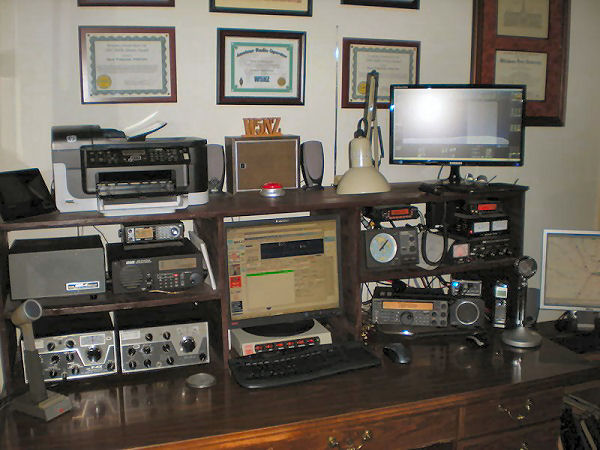 October 14, 2015