W5LUE - March 25, 2009

---
Jack M. Dye
Ft Worth, TX
QCWA # 8902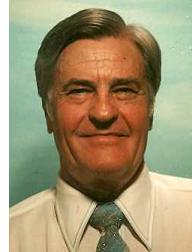 Jack Max Dye, 90, passed away Wednesday, March 25, 2009.
Graveside service: A private family service will be held in Tage Cemetery, Bowie. Memorials: In lieu of flowers, donations may be made to Agape Baptist Church. Jack was born May 13, 1918, in Bowie to John and Elizabeth Dye. He married Doris Byas on Aug. 15, 1938. To this union was born Betty Sue Dye on June 30, 1940. He moved to Fort Worth in 1943 and went to work for Convair (General Dynamics).
Jack worked on the B-24, B-32, B-36, B-58 and F-111 programs. He retired in 1973 after 30 years with the company. Jack served several years on the Management Club board of directors and was a member of Lockheed Retirees Club.
Jack was a member of Ridglea West Baptist Church for over 50 years. He installed the first sound system and first electronic organ in the church. Jack was a radio amateur operator, first licensed in 1946 with the call sign of W5LUE.
He was a member of Quarter Century Wireless Association, Old Timers Club, Radio Amateur Civil Emergency Service, Kilocycle Club of Fort Worth, General Dynamics Amateur Radio Club, Amateur Radio Satellite Corp. and teh Amarican Radio Relay League.
Survivors: Daughter, Betty Sue Lyell of Brentwood, Tenn.; granddaughter, Susan Lee Young of Nashville, Tenn.; and great-granddaughters, Amelia Young and Bonnie Sue Young.
---
QCWA Members:

It is with deep regret that I report the passing of Jack M. Dye, W5LUE of Ft. Worth, TX.

This morning, I received a phone call from Jack's daughter, Betty Lyell. Betty advised me that Jack, 91 years old at the time of his death, passed away peacefully in his sleep on Wednesday, March 25, 2009.

Jack Dye was a dear, dear friend. Both of us were Members of QCWA Chapter 41 (Dallas) and Chapter 72 (Ft. Worth). Also, Jack was a regular at QCWA National Conventions, most recently in Virginia Beach, VA.

Jack will be sadly missed by all those whose lives he touched..........
73 es GUD DX dear friend.....

Val L. Erwin, W5PUT
QCWA Natl' Director