W5HZO - December 20, 2009

---
Harold P Eichenberger - W5HZO
Gainsville, TX
QCWA # 8896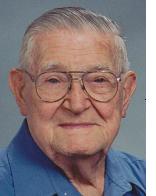 Harold Paul Eichenberger (1915 - 2009)
Harold Paul Eichenberger, 94, passed away Sunday, Dec. 20, 2009, in Gainesville. Funeral: 2 p.m. Monday, Dec. 28, at Biggers Funeral Chapel. Interment: Azleland Memorial Park. Visitation: 2 to 4 p.m. Sunday at the funeral home.
Memorials: Memorial gifts may be made in his name to Tarrant Lodge #942 A.F. & A.M., 2115 Belle Ave., Fort Worth, Texas 76106.
Mr. Eichenberger was born May 11, 1915, in St. Louis, Mo. A Fort Worth resident since 1961, he retired from General Dynamics and the city of Fort Worth.
Mr. Eichenberger, an amateur radio operator since 1931, was a member of the Quarter Century Wireless Association and was known by the call sign "W5HZ0."
He was a member of St. Andrews Church in Fort Worth and was a Mason for over 50 years, currently affiliated with Tarrant Lodge #942 A.F.& A.M., Moslah Temple Shrine, and the Lockheed Management Club. He enjoyed astronomy and was active in the Lockheed Astronomy Club and the Fort Worth Astronomy Club.
Mr. Eichenberger was preceded in death by his first wife, Dolores Prosser Eichenberger, on March 17, 1987. Survivors: His wife of 21 years, Wilma Hale; sons, Thomas, Paul, Fred and Louis; stepdaughter, J.B. McCauley; 15 grandchildren; and 22 great-grandchildren.