W4HV - January 6, 2004

---
Thomas E. "Jack" Bobbitt

I just received a call from Elaine Bobbitt, Jack's daughter, who told me that Jack became a Silent Key today, January 6, about noon.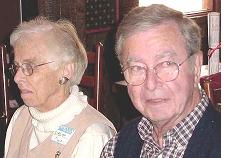 I'm sure that most of our older members will remember Jack. I believe he served as a QCWA Chapter 91 officer in several capacities [ Jack was Treasurer for 3 years, 1985-87 ] but, more importantly, was simply an outstanding person.
When I was Chapter President, I wanted someone to be our official Greeter--someone who "knew everybody" and who would not allow a newcomer to go unnoticed. Jack immediately came to mind and served that function beautifully. In Jack's world, there were no strangers.
Over the years, Jack and Dee, his wife, had become close friends with Judi and me. We spent quite a few evenings sipping wine together. In his typical dry-sense-of-humor manner, he complained "bitterly" with mock seriousness when he had to stop drinking alcohol because of his medications.
Jack spent much of his life in West Virginia, so we certainly had some affinity there! You might remember about five(?) years ago at our Holiday Party, Jack interrupted the proceedings to present me with a West Virginia state flag; that flag has been hanging in my shack ever since.
Jack is to be cremated. There are no plans as of yet for a memorial service. Elaine told me that Jack's ashes will be scattered at one of his favorite places in West Virginia in the Spring. I hope to go there then.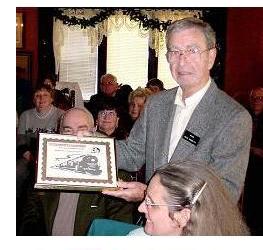 About four months ago, Jack had a respite from his illness and was able to spend some time at Greenbrier State Park in West Virginia, not far from the Greenbank observatory. As a matter of fact, Jack was friends with the couple who owns the motel where we have stayed when Chapter 91 has visited the observatory. He really loved that area; it meant much to him to make that trip.

When Jack and Dee moved to North Carolina to be near Elaine, Jack was deeply disappointed that he would be unable to operate HF from their new QTH. Every time I talked with him, he lamented giving up his HF equipment. He had been very active with the IBEW's HF net.

Elaine said that Jack's wonderful sense of humor was with him to the end: Jack recently had taken a turn for the worse, was bedridden and using an oxygen mask. Elaine asked him if he was hurting. Jack replied, "Only in my pocketbook."

vy 73 old friend,
Jim, W3WV

If you want to send a card:
Dee Bobbitt
300 Kildaire Woods Drive, #234
Cary NC 27511

In lieu of flowers, a donation to an organization supporting Parkinson's research is suggested.