W4ACM - March 4, 2011

---
Carlton H. Gray
Alexandria, VA
QCWA # 13619
Carleton H. Gray, 100, entered into eternal rest at Greenfield of Fredericksburg on Friday, March 4, 2011. He will be truly missed by his family and all the lives that he touched.

He was born on Aug. 11, 1910, in Artas, S.D. His loving wife of 57 years, Zianna A. Gray, who passed on March 11, 1996, and five brothers preceded him in death.

Carl built his first radio receiver in 1923 from instructions in the Boy Scout Handbook and the Radio News Magazine. He obtained his amateur radio license in 1927 (9EUH) and his commercial license in 1930. During World War II, he served for nearly four years on active duty with the Army Signal Corps. He worked as an engineer at several Midwest broadcasting stations, one of which was where he met his wife, Zianna. After their marriage, he accepted a civil service appointment as a radio engineer in 1941 and was assigned to the Army Signal office in Omaha, Neb. In 1962 he transferred from Omaha to the Office, Chief of Engineers in Washington, D.C. He retired in 1973 as chief of engineers. In 1988, he received the Veteran Wireless Operators Association's Deforest Audion Gold Medal Award that recognizes the achievements of men who have distinguished themselves within the electronic field. Silent Key W4ACM.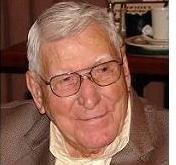 Carl was an elder in the Presbyterian Church (USA) and a member of Heritage Presbyterian Church in Alexandria. He was also a member of QCWA, VWOA and the ARRL. He was an avid fan of the Baltimore Orioles and the Nebraska Cornhuskers. They have lost a true fan.

He leaves to cherish his memory, a son, Alan S. Gray and his partner, Natalie Balderson, of Richmond; a son, Richard M. Gray and his wife, Vickie, of Fredericksburg; a daughter, Linda L. Rayner of Charlottesville; grandchildren, Alan Stephen Gray Jr. and his partner, Dani Barker of Inwood, W.Va.; Kristin L. Rayner of Charlottesville; Kelly D. Gardner and her husband, David, of Italy; and Jennifer Brown of Fredericksburg; and two great-grandchildren, Alex Gray of Inwood and Thomas Gardner of Italy, as well as many other loving family and friends.
---