W3BM - October 5, 1992

---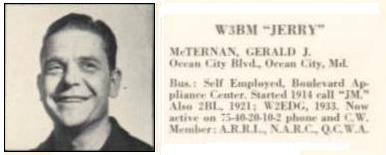 Gerald J. 'Jerry' McTernan
President Ch 64 1982-1990
El Paso, TX
QCWA # 581
Born 1906
(from the 1953 yearbook)
A self-taught electrical.electronics technican, engineer, inventor and QCWA member (#581), Gerald John McTernan, W5YV died October 5, 1992 in El Paso, TX.
Jerry was a pioneer in the developement of early radio and television technology for Bell Labs and Western Electric in Deal Beach, NJ in the 1920's, developing many patents in this field. He worked for Colpitts and Hartley along with Heisig, who developed the modulation systems we now use. A life long ham radio enthusist, he received the call 2BL at the age of eight in 1914, and operated the station for Bell Labs. Jerry received his 75 year award in 1989.
At age 26, he embarked on an entertainment career as a self-taught musician, singer and band leader, working at the famed winter resort of Pinehurst, NC and other locations along the Eastern Seaboard. In 1942 he returned to the radio industry and operated a thriving radio repair and appliance business in Ocean City for many years. During this period he received the call W3BM.
In 1961 he again became involved with electronics R & D as a research scientist at the invitation of Westinghouse Corporation in White Sands, NM. He retired from Westinghouse in 1971 to make his home in El Paso, TX. Jerry server as President of El Paso Chapter 64 from 1982-1990.
Robert J Carroll SR, K5IE