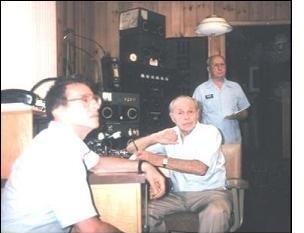 Vice President 1966 - 1968
President 1969 - 1971
Director 1971 - 1979

Clarence Seid
Middletown, NY
Charter Member #31
SEID--Clarence, 96, of Middletown, NY on August 1, 2004 in Boca Raton, Florida. Beloved husband of Florence for 70 years. Loving father of Jane Chaves and Carol Seid. Cherished grandfather of Susan Chaves Zucker and her husband Scott; Mark Chaves and his wife Kim. Proud and caring great grandfather of Jeri and Brian Zucker, Evan and Allison Chaves. He was a remarkable man in love with life. He was a devoted advocate and proponent of the law, an avid Ham Radio Operator, President of the QCWA and was known around the world as W2KW for 83 years. Family and friends mourn the loss of this unique and multi-faceted man. Please honor Clarence's memory with a memorial contribution to a charity of your choice.