W2GJ - October 20, 2009

---
Peter Radding - W2GJ
N Charleston, SC
QCWA # 11700
North Charleston, SC
Engineer - HAM - Pilot - Mentor - Family Man Peter Radding, 69, of North Charleston, husband of Tina Radding, died Wednesday, October 21st, 2009.
Mr. Radding was born on December 25th, 1939 in Mineola, NY, son of the late Earl and Edna Radding.
He was a graduate of Seaford High School in Delaware and received his Bachelors of Science degree in Industrial Distribution from Clarkson University in 1963. After graduation, Peter worked for Corning his entire 35 year career in various technical, sales, marketing, and management capacities. He helped forge Corning's vision in telecommunication and fiber optics.
Peter had numerous hobbies that became his passions over his lifetime. He was a HAM radio operator for 57 years and utilized these skills for numerous emergency response disasters. Peter's largest passion was his love of aviation. A pilot for over 20 years, he was recognized by the State of Delaware House of Representatives for his 'outstanding service to his fellow man by using his aircraft for the purpose of mercy'. He donated his time and use of his plane through Angel Flights to transport critically ill adults and children. In 1999, he received the Angel Flight Pilot of the Year award. After his retirement from Corning, Peter utilized his mentoring skills as a business consultant and served on numerous management boards. Family was Peter's highest priority with emphasis on education, high ethics, and social commitment. He was a devoted husband, father, grandfather, spending countless hours in scouting and other family activities. Peter received an alumni honor, the Golden Knight Award in 1998, for his devoted and committed service in the growth of the Clarkson University Alumni Association from a regional to national organization.
Peter is survived by his wife Tina, son Peter Radding and his wife Jill of Wake Forest, NC; daughter Nicole Havert and her husband Tim of Palmer, Alaska; 4 grandchildren: Trent and Grant Radding and Jordan and Anderson Havert; and brother Wilson Radding and his wife Terry Reeves of Greensboro, NC.
A memorial service was held Monday, October 26th at St. Thomas Catholic Church in North Charleston. A gathering of family and friends was held at James A. Dyal Funeral Home, Summerville Sunday evening, October 25th.
In lieu of flowers, memorials may be made to Mercy Flight Southeast at www.mercyflightse.com; Boy Scouts of America Troop 500, 9535 White Carriage Drive, Wake Forest, NC 27587; or a charity of one's choice.
from www.qrz.com
1952 Novice, WN3TXL1953 General, W3TXL, 1963 w2diq, 1976 w2gj, ARES,RACES,NTS,BPL,ASEC, Interests: EMCOMM, CW Primarily, Bands:160-440,cw,ssb,rtty,psk31/63, DXpeditions: C6APR Southern Bahamas 2006,07, 08 IOTA NA113 & CQ WW SSB 06-09, Lighthouse BAH001,BAH005

Other interests: Flying, Golf, sailing
---
Pete was a member of the Palmetto State QCWA Chapter 89 in Leesville, SC.
---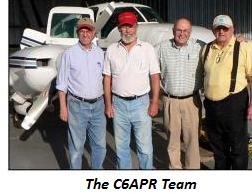 C6APR team killed in tragic accident

The C6APR team, consisting of Pete, W2GJ, Ed, K3IXD, Randy K4QO and Dallas W3PP were all killed this morning (Wednesday) as their aircraft crashed on take-off from Summerville Airport, SC on their way to Crooked Island, Bahamas. (Randy, K4QO was also a QCWA member)

They were on their way to operate in the CQWW contest this weekend.
JEDBURG, SC -- An experienced pilot who volunteered to fly mercy air ambulance trips and introduced young people to flying was one of four people killed in a fiery plane crash Wednesday when their aircraft fell from the pre-dawn sky seconds after takeoff.
The cause of the accident at the Dorchester County Airport remains under investigation.
The four men were heading to St. Lucie County International Airport in Ft. Pierce, Fla., officials said. That was to be their U.S. Customs and Border Protection clearance destination ahead of flying to a ham radio operators' convention in the Bahamas.
Killed in the crash was the pilot and plane owner, Peter Radding of North Charleston, reported to be in his mid- to late 60s. He was a pilot for at least 40 years and was described as being meticulous about his plane.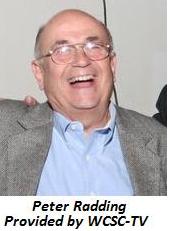 Also killed was James Randolph Hargenrader, 55, of Summerville. He was the front-seat passenger and a licensed pilot. The other victims were passenger Edwin Steeble of Summerville, also in the 55-65 year range, and Dallas Carter, in the same age category, of Laurel, Del.

Radding's 1976 Piper PA-23 took off from the airport's Runway 24 at 6:28 a.m., heading south. It quickly veered off course and crashed into a low-lying, thickly wooded area adjacent to the airfield, some 50 yards off the runway.

A resident living near the field reported the crash, saying she had heard a loud explosion. The plane burst into flames, responders said.

The crash site left charred foliage in the woods around the plane, Dorchester County Administrator Jason Ward said.

"It was extremely dark and that's why it was difficult to locate" the crash site, Ward said. Wreckage was strewn in a roughly 60-yard radius.

The plane was found in the woods, upside down, though it is unclear if it landed that way or rolled after its first crash with trees and the ground. Authorities had to wait for fire suppressant foam to evaporate before they could confirm the total number of victims. Workers are also searching for one of the plane's two propellers.

Radding was a retired executive of Corning Inc. He most recently was chief executive officer of Omega One Communications in Summerville, a corporation spin-off that manufactured coaxial cable.

He volunteered for Mercy Flight Southeast, transporting critically ill patients by air, and Young Eagles, a program that introduced young people to flying. He was a board member of the Coosaw Creek Disaster Preparedness Committee.

A graduate of Clarkson University in New York, he won the school's highest alumni honor, the Golden Knight Award, in 1998 for his career achievement and community service.

Investigators with, the National Transportation Safety Board, the federal agency that investigates plane crashes, were expected to arrive late Wednesday, and it is doubtful the wreckage will be moved any time soon while officials investigate the crash, looking at a variety of factors, including early morning flying conditions.

"A fully qualified pilot taking off in the dark is a routine procedure. It's done all the time," said local aviation attorney Mark Fava. "Takeoff accidents are rarer than landing or bad weather accidents. Really, until we know the cause it's difficult to tell" what might have happened.

This was at least the fourth fatal accident at the airport in recent years, Ward said.

During the day Wednesday, Dorchester County officials were busy moving truckloads of rocks to the area, and taking trees and shrubs out, to make it easier for emergency vehicles to reach the marshy crash site.

The Dorchester County-owned airport is in a rural part of the county along Cypress Swamp near Jedburg. At least 20 planes use it as a home station. There is no functioning tower and flight contact is made through the tower at Charleston International Airport.
---
from an email dated 10/27/2009
Pete Radding, W2GJ, was a great guy, formerly from Corning Glass here in Western New York. We were good friends for a good long time and enjoyed his FB company at our Ham Radio picnic in mid August here in Newark Valley.

Regards, Bill W2MTA