W2CVF - March 27, 2008

---
Ralph Hasslinger
Englewood, NJ

Charter Member #23
---
QCWA is the trustee of Club Call W2CVF per Ralph's request.
---
HASSLINGER Ralph, 101, of Glen Rock died Wednesday, March 26, 2008 at The Valley Hospital, Ridgewood. He was born in New York City in 1906, and had been a resident of Bergen County since 1909.
He attended school in Ridgefield Park and also resided in Wyckoff and West Englewood before moving to Glen Rook in 1968. He was a former member of the First Presbyterian Church of Ridgefield Park.
He was employed for 32 years by General Offset Co. Inc. in New York City, and at the time of his retirement, in 1970, was the Secretary-Treasurer and a Director of that corporation. During the cold war, in the early 1950's, he was instrumental in organizing the Bergen County Civil Defense Radio Network and was County Radio Officer and Communications Coordinator, at that time.
He owned and operated Amateur Radio Station W2CVF, first licensed by the Federal Government in 1922. He was a founding charter member of the Quarter Century Wireless Association, Inc., and was presented with its 50 Year Anniversary Award by Senator Barry Goldwater, who was Association President, at that time, in Washington DC in 1972. He received the 60 year award in 1982, the 75 year award in 1997, the 80 year award in 2002, and the 85 year award 2007. He was awarded certificate number one as a member of the QCWA Century Club in 1978. The Association, which was organized in New York City, in 1947, with 54 organizing charter members, had become international, with over 30,000 members. At the time of his death he was the last surviving charter member. In 1974 he organized the Northern New Jersey chapter of the Association, and was awarded the Chapter Charter, at the annual national meeting in Orlando, Florida, in October 1974. He served as the first President of the Chapter.
In 1980 he organized the "Ozone Club", a group of Amateurs who had operated "spark" stations in the early 1920's. Prior to his death the Organization had grown to over 280 members, ages 75 to 90 plus, throughout the United States. He also was a member of the American Radio Relay League and held their Public Service Award for handling emergency disaster communications; A-l Operator Club, Official Phone Station, the "Old Old Timers Club", the "10-70 Repeater Association" and the "Society of Wireless Pioneers" etc. A short wave radio enthusiast since boyhood days, he had contacted hundreds of amateur radio stations, all over the world, and was visited by some of his foreign radio friends.
Surviving are: son Glenn and his wife Louise, of Monroe, WA, three grand children Melanie Vanni of Newton, NJ, Glenn Hasslinger, Jr. of Bellevue, WA, Dawn Clarke of Las Vegas, NV and seven great-grandchildren Katherine, Brooke, Lauren, Garrett, Stephen, Chase and Cole. He was predeceased by his wife Rita in 2001, a daughter, Carol and three brothers, Henry, George and Clifford.
Visiting, Sunday 2-4 and 7-9 p.m. at the VanderPlaat Funeral Home, 257 Godwin Ave., Wyckoff, NJ. Funeral Service Monday 10:30 a.m. at the funeral home followed by the burial at Hackensack Cemetery, Hackensack, NJ. In lieu of flowers, memorial donations to the Community Church of Glen Rock, 354 Rock Rd. Glen Rock, NJ 07452 would be appreciated. www.vpfh.com
Published in The Record and Herald News on 3/28/2008.
---
>Silent Key ...is that the term for a member who the angels have taken to heaven?
PopPop is at peace.
Arrangements have been made at VanderPlaat Funeral Home... 201-891-3400.. They haven't set the dates yet, though. We think services on Sun., funeral on Monday. Thank you for your concern and for helping to make his life so complete and happy.
Melanie Vanni
(Ralph's Grand Daughter)
---
I am sorry to hear that Ralph is SK. He may just have been the oldest living Ham Operator. An era is passing, truly.
73 - Doug WAØEMX
---
I'm sorry to report that Ralph Hasslinger is a Silent Key. The message below is from his granddaughter, who has been my contact over the past several months. I'll forward additional information as I receive it. Please pass this along to other QCWA members.
73
Chuck
(QCWA General Manager)
---
It is with a profound since of loss that I inform you of the passing of Ralph Hasslinger, W2CVF. Ralph was the last living Charter Member of QCWA. The opening chapter of QCWA is now closed.

Rest in Peace Ralph
73,
Bob Roske, NØUF
QCWA Webmaster
---
Thanks, Melanie, for keeping me informed. My personal condolences to you and your family upon the passing of Ralph "PopPop" W2CVF this Wednesday. His name and accomplishments on behalf of QCWA will long live on after him, as a living reminder of his loyalty to both the organization and to Amateur Radio. We will all mourn his loss, and list him as one of our most cherished Silent Keys. May God bless you and yours, and receive him in glory and honor. Thank God for Ralph Hasslinger!
73, Alan Pickering, KJ9N
Past Director and Secretary
---
I'm just sorry to be the bearer of such news. The QCWA, ARRL, and the world wide Amateur Radio community may not see the like of Ralph and his compatriots again. True pioneers paramount in their service to us all. Their legacy will prod us all to emulate them as we continue in their footsteps, as many are doing every day. I'm sure Ralph's many friends will appreciate the notice of his passing in the July QST. Thanks.
-Doug wa0emx-
---
Doug - thank you for informing the League. I am quite taken off guard, as I had just spoken with Ralph over the holiday season when he applied for LIFE membership in the League as a show of support for ARRL. We will list him in the July issue of QST as a silent key.

Amy Hurtado, KB1NXO
Circulation / Customer Service Manager
---


from the 1953 QCWA Yearbook
---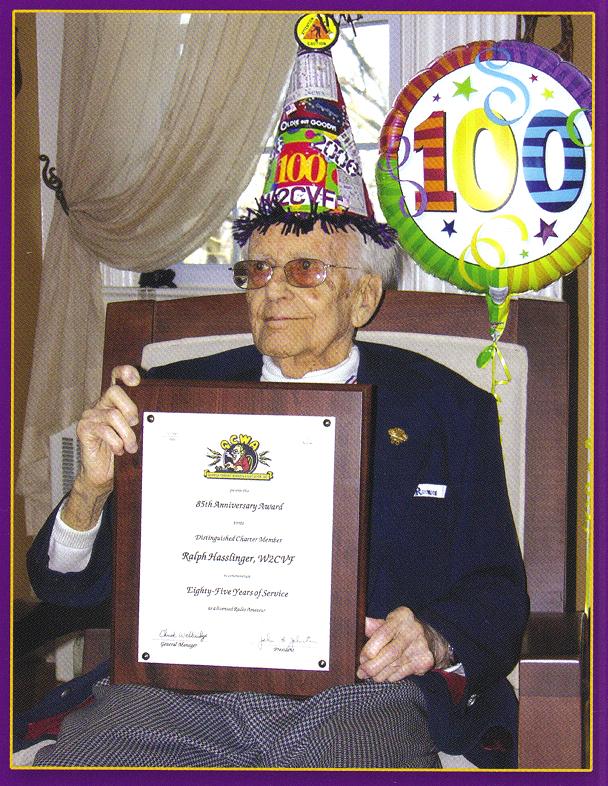 November 23, 2006 - Ralph is 100 Years Young.
Congratulations Ralph!!

---
I was born in New York City in 1906 and later moved to Ridgefield Park, NJ in 1909. I was licensed as 2CVF in 1922.
While visiting a classmate in 1918, I became interested in a gadget he called a "wireless" receiver, that emitted intriguing dots and dashes, which I thought came from the Brooklyn Navy Yard.
I obtained an oatmeal box, some #24 DSC wire from an older brother who had an electrical contractig business in NYC and wound a considerable number of turns on the oatmeal box, put together a wooden frame, mounted a slider, cleaned the wire for contact and that was a tuner. Next came a crystal detector - a piece of galena and a cat's whisker, and a telephone receiver. We still needed wire for an "aerial". Once again my brother came through with 100ft. of $14, a slate based 18" double throw knife lightning switch, which was a condition my father insisted upon for the aerial that ran from the attic to a tree in the backyard.
After fiddling around to find a sensitive spot on the galena detector, and sliding the contact on the tuner, I finally was thrilled to hear some dots and dashes! (By this time a current amateur would probally have made WAC on SSB phone with a purchased transceiver!)
One evening, I was sliding the tuner and was amazed to hear music, apparently coming from the first local broadcast station playing "Margie", "I'm Forever Blowing Bubbles" and other favorites.
Next came a ford coil, homemade O.T., a spark gap using two nails, A Boston Clapp-Eastman key and I was on the air, without a license, using my initials, as was the custom in those days. I had learned the code from a local broadcast station that put out code practice at 5, 10 and 15 wpm every afternoon from 3:30 to 4:00PM.
I hooked up with a licensed ham, about 3 miles away, and he suggested it might be a good idea if I obtained a license. So, down to the R.I. in the Customs House in New York City and became "legal" with the call 2CVF, now W2CVF, which I have held for he last 80 years.
Now legal, in succession, came a 1 KW Acme spark transformer and a Benwood enclosed rotary spark gap. Big DX! Boston and Chicago! Progressing with wireless advancements of the time came CW with a 202, 203 and UX852. For the 1,000 DC, I removed the 15,000 volt secondary on the spark transformer and replaced it with a handwouond coil that delivered 1000 volts AC. Rectifacation was acheived by lead and aluminum strips in 52, one quart mason jars (which is all my mother had) filled with a solution of Borax in water.
My station license authorized wavelengths of 200 meters with 190 and 170 meters as alternates! As time passed, came the developement of the shorter wavelengths and their world of wonders - 80, 40, 20, 15, 10, 5, 2.5 etc. DX on 80 and 40 at night, was all over the world; then we discovered that the same could be accomplished during daylight on 20 and lower.
Organizations: ARRL; Ridgefield Park Radio and Television Club, 1930; 5 Meter Radio Assn, with meetings on the air, 1935; The Northern New Jersey Radio Association, 1946; The Hudson Radiophone Assn, 1946; Quarter Century Wireless Association, 1947; The Old, Old Timers Club, Inc, 1974; The Ozone Club, 1980; and Society of Wireless Pioneers.
During the "cold war" subsequent to World War II, I organized an emergency net that covered Northern New Jersey. When R.A.C.E.S. was authorized by the FCC, I was licensed to operate as Bergen County R.A.C.E.S. Officer. During the follwoing two years, I acted as the weekly net control and authorized headquarters stations in 35 of the 70 towns in Bergen county.
My first employer, in 1924, was the Radio Corporation of America, under Dave Sarnoff and J.O. Smith 2ZL. After numerious jobs during the depression, I went to work for General Offset Co, Inc. as Comptroller in 1938 and retired in 1970 as Treasure and a Director of that corporation.
In 1939 I married Rita Stanbrough and had 62 good years, until she passed away in 2001. We had 2 children, 3 grandchildren and 4 great grandchildren.
I have been on the air for the last 80 years and at 95, the Lord willing, I will be around to renew my W2CVF license when it expires in 2007. At any rate "W2CVF" already appears on my gravestone, waiting for a final date.
I copied this from the Summer 2002 QCWA Journal on the occasion of Ralph's 80 Year Award from QCWA
tnx Ralph, wish I could give you 80 more! Bob Roske, NØUF QCWA Webmaster
---
Thanksgiving 2006 marked a significant milestone for our last Charter Member. Ralph Hasslinger, W2CVF, was 100-years old! His granddaughter, Melanie Vanni, planned the birthday party which was attended by many family members, some, Ralph indicated, he had never met before! I have summarized some of Ralph's background in the following material.
Ralph was born in New York City in 1906 and moved to New Jersey in 1909. His original license was 2CVF in 1922. His first exposure to "wireless" was at a classmate's house in 1918 when he became interested in a "wireless" receiver that emitted intriguing dots and dashes, which he first thought came from the Brooklyn Navy Yard.
His first "home brew" receiver was built from an oatmeal box, some #24 wire, a wooden frame, a slider to contact the coil on the oatmeal box, and a piece of galena and "cat whisker". Audio was provided by a telephone receiver. The antenna was 100 feet of #14 wire from the attic to a tree in the back yard. After finding the sensitive spot on the galena detector, dots and dashes were finally heard.
Ralph was initially on the air with a Ford spark coil using his initials, which was the common practice at that time. He finally was licensed in 1922, taking his exam at the Custom House in New York with the "legal" call of 2CVF. Over the years, Ralph expanded on his operating skills eventually upgrading to more modern equipment.
It was in the evening of Friday, December 5th, 1947, in an upstairs room of Pappas Restaurant in New York City when Ralph and 33 other young men met to plan for something that would change amateur radio history. From an idea that had originated during a 10-meter net the month before, an organization to recognize the common bondage between those licensed for 25 years, was to be created. They all had started with Ford spark coil, as a transmitter, and worked their way up to a 1kw rotary gap transmitter, all on or above 200 meters. (Ralph's original license indicated he could transmit on 180, 190 and 200 meters!) All advanced to CW and to the "frequencies" we now know.
When discussing the name for their new organization, Frank Lester, then W2AMJ (now an SK) suggested "Quarter Century" to recognize their years of service and "Wireless Association" to indicate an organization whose members had pioneered amateur radio from the days of wireless spark. The enthusiasm of the original fifty-four charter members to establish QCWA is the legacy we now live with.
Ralph also has been a generous benefactor of our QCWA Memorial Scholarship Fund. Through his contributions, many young hams have benefited in being able to become educated and move on to be productive members of our society. Thanks Ralph!!
(A summary of Ralph's life was presented in the Summer 2002 Journal and the history of QCWA was in the Spring 1994 Journal. Both were used as sources for this summary. DE GM)
---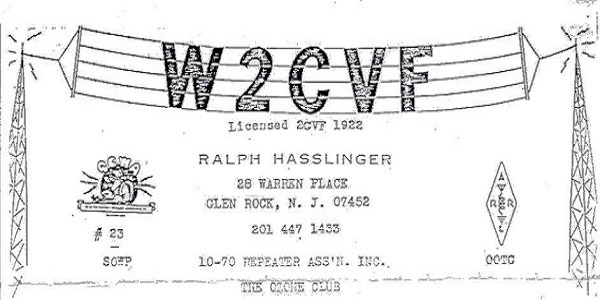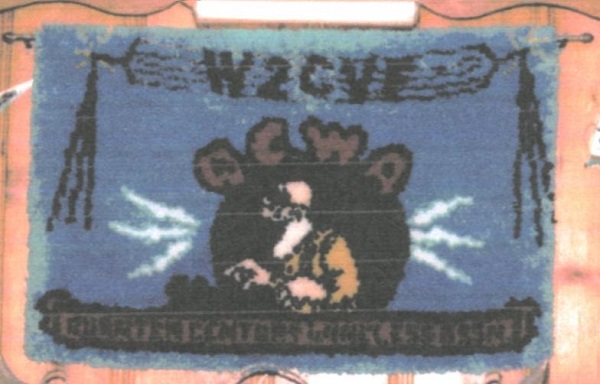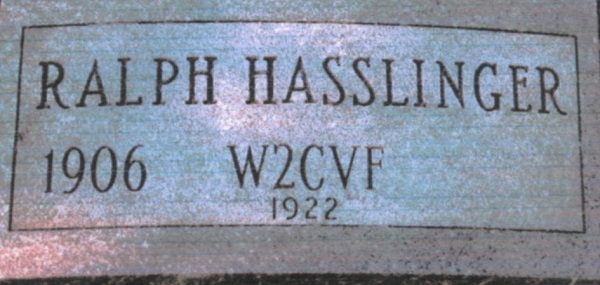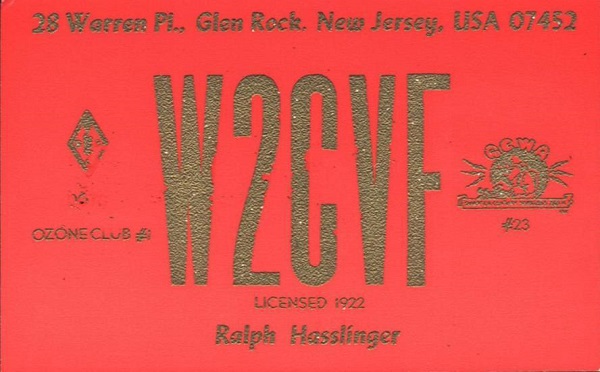 images from W2CVF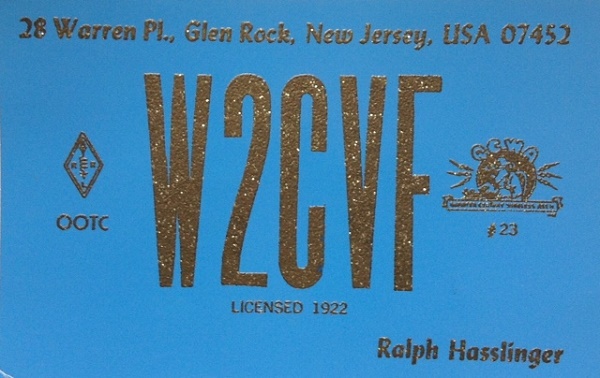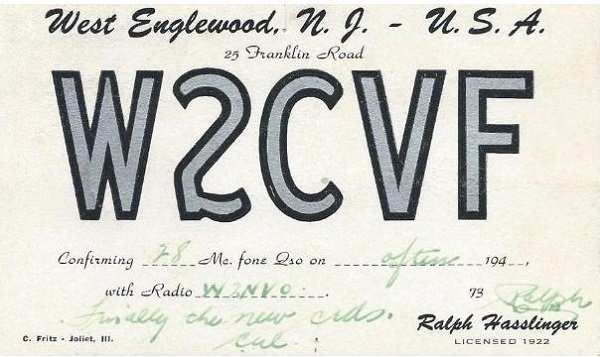 images from NL7XM collection
---
From: http://www.ootc.us/bbuk/mbr1549.1559.pdf