W2CP - October 14, 2009

---
Eugene A 'Gene' Walter Jr.
Madison Heights, VA
QCWA # 7903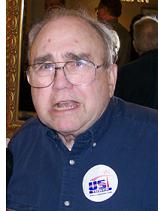 Eugene Alfred Walter Jr., W2CP, 86, of Madison Heights, passed away October 14, 2009.

He is survived by his wife of 61 years Elizabeth (Betty) Walter; two beloved daughters. The Reverend Liz Ecklund and Joyce Lifshin; a loved son-in-law, Rev. Richard Ecklund; grandson, Christopher Ecklund; granddaughter, Erin Ecklund; and a great-granddaughter, Briannah Ecklund.
He served in the US Navy and then the US Merchant Marine during WW2. He was an avid Amateur Radio Operator. He served 70 years in the National Association of Radio operators. He was a life member of the American Radio Relay League, a member of the Long Island NY Owls radio club and a member of the General Federation of Radio Members of Virginia and a Member of the Lynchburg Radio Club. He worked in television and radio operation work in New York. After he retired he went to college, graduated from CVCC, Lynchburg College and Longwood College. Then he taught at CVCC for more than 3 years.
A celebration of his life will be held on October 24, 2009 at 11A.M. at Rustburg United Methodist Church. The Rev Richard Ecklund will officiate. There will be a luncheon immediately following the service. Instead of flowers please give to the Elijah Fund care of Rustburg United Methodist Church, Po Box 336, Rustburg, Virginia 24588.
Whitten Funeral Homes and Cremation Services, Monelison Chapel, is assisting the family. To send a condolence to the family, please visit, www.whittenfuneralhome.com.
Published in Lynchburg News & Advance from October 16 to October 18, 2009
---
From Gene's Guestbook at: http://www.legacy.com/gb2/default.aspx?bookid=1494783082616&cid=full
October 18, 2009
Hello Betty, I am so sorry Gene has passed on. I'll miss calling him on the phone to seek his advice and the sharing of ham radio experiences. You and Gene really supported our QCWA Chapter #202. Gene was an enthusiatic member and we sure enjoyed his talk about his early days in ham radio. As a pre WW2 ham he was our senior member and presenting him with his 65 year certificate was a great pleasure. Thank you for your kindness to me and Sarah. God Bless you and the family and hope to see you soon. 73 and 88,
Leland "Buddy" Smith, W4YE
Wirtz, VA

October 16, 2009
Betty
Your husband was a good friend through Ham radio I am a past president of the Lynchburg Amatuer Radio Club. I will be atteneding the services. I visited Gene a couple of weeks ago at the Summit it hard to believe he is gone! You are in my prayers.
Bob Weber, NG4Q
Forest, Virginia
---
Silent Key: Tom, N4ATV sends along the following sad news: Good Morning all, [Here] is the essence of the Lynchburg News and Advance's Obituary for Gene Walter, W2CP, our dear friend and Past Vice-Chairman of the Old Dominion Chapter (Chapter 202) of the QCWA. A celebration of his life will be held on October 24, 2009 at 11A.M. at Rustburg United Methodist Church. Gene.s son in law, the Rev Richard Ecklund, will officiate. I.m hopeful many of you will be able to attend. Warm personal regards, Bill William W. (Bill) Perkins, KC4D, QCWA Old Dominion Chapter 202 Vice-Chairman