W2AK - January 10, 2010

---
Charles W. 'CW' Floring
Syracuse, NY
QCWA # 1357
Charles W. Floring W2AK January 10, 2012
Charles W. Floring, 95, of Syracuse, NY and Venice, FL passed away Tuesday. Born February 14, 1916, in Syracuse he was the son of Frank and Ina Floring.

He was a member of the Taunton Presbyterian Church. He had a sense of humor and liked to make people laugh. He also enjoyed playing bridge, bowling, golf, Ham radio, and traveling, having visited all six continents. He graduated from North High School and the College of Applied Sciences at Syracuse University in 1937. He was a member of Kappa Sigma fraternity, Theta Tau honorary engineering fraternity and AIEE.

During WWII he served with the USNAVY/BuAir attaining the rank of LT(SG). While in the Navy he studied at Cornell, Harvard, and M.I.T. He was the officer in charge of the development of airborne television systems for the Navy to be used in pilot less aircraft and guided missiles. He was a licensed professional engineer in New York State. He was employed as an engineer by Niagara Mohawk, General Electric and was president of Syracuse Electronics Corp, C.W. Floring and Associates, Inc. and Trademark Electronics Corp.

For 80 years he was a licensed amateur radio operator with the call signs of W8EBR, W2PTD and W2AK. He was a charter member and the historian for the Radio Amateurs of Greater Syracuse (RAGS) and a member of the Quarter Century Wireless Association (QCWA). He was a former member of Bellevue Country Club for 35 years participating in the League of the Iroquois. He was also a member of the Waterford Country Club in Venice, FL for 20 years, the American Legion, Venice, FL and the Elks of Englewood, FL. In 1941 he won the Hole in One contest at Green Lakes sponsored by the Syracuse Herald.

He was predeceased by his wife of 63 years, Elizabeth Lee Floring; his sister, Ruth Ina Ladd; and his brother, Russell Leonard Floring. Survivors: his daughter, Elaine E. Perrine; a cousin, Marlene Floring Chappell; nieces and nephews. Services: 10 a.m. Friday at Tindall Funeral Home. Burial will follow in Woodlawn Cemetery.
---
A Conversation with W2AK - QCWA Member # 1357

How did you get started in Amateur Radio?
We had moved from Maplewood, NJ to Mayar Street in Syracuse in 1928 when I was twelve - I first went to Webster School and then to North High School. I was a Boy Scout and like a lot of other Scouts, I subscribed to Boy's Life and in one issue I saw an advertisement from the ARRL for a pamphlet "How To Become An Amateur Radio Operator" that they would send you for only fifteen cents. So I sent the money in, received the pamphlet, read it, got hooked, studied and passed the test - receiving the call W8EBR in 1932.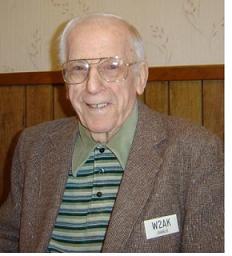 There were about four or five of us at North High that were interested in amateur radio and we had an informal radio club. The Physics teacher would come in and talk to us about radio topics. All of our equipment was home built at that time - my first receiver used a type 32 tube in a regenerative circuit with a type 30 amplifier. My transmitter used a type 45 in a TNT circuit operating on 80M. Being teenagers, we pushed the envelope a little and it wasn't unusual for one of the club members to operate on the air before receiving his license.
And after high school?
I went to Syracuse University and majored in Electrical Engineering. A full years tuition was $370 at that time and there was an active radio club on the campus. Along the way I moved up to a National SW-3 receiver and a more powerful home built transmitter - crystal controlled with a type 47 oscillator, type 46 buffer/driver and two type 210s in a push-pull output stage.
Business was recovering from the Depression when I graduated in 1937 and there were jobs available. General Electric was the employer of choice but they only hired two SU graduates every year - the top mechanical and electrical engineers. So I figured my chances with GE weren't that great and applied to several other companies in addition to GE. Ultimately I received offers from GE (surprise - they hired two EEs that year), IBM, Crouse Hinds and Case. I jumped at the GE offer and after the Sunday graduation, a friend and I jumped into his car, drove all night, and reported for work at the Lynn, MA plant at 8:00am the next day.
I started out on the GE Training Program and was soon transferred to Schenectady where I was assigned to work on airborne radios. One of the first was the ART-13 and when we worked the midnight-to-8am shift, we'd sometimes retune it to operate in the 160M. I remember when WGY, the GE station, moved from its location at the Schenectady "works" to a new transmitter site south of the city. They put up a big new vertical antenna and one of my friends and I decided to climb it one night before they powered up the station, but a guard caught us before we got very far - probably a good thing!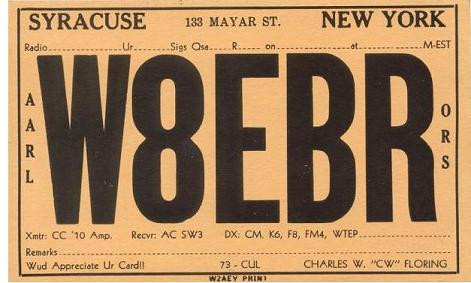 By 1938 business was slowing way down. GE never laid anyone off in those days but they told us to take time off - an unpaid vacation - first two weeks, then two months, finally three months. But my folks had a camp on Otisco Lake and I was looking forward to a long vacation. During that time I interviewed with an oil prospecting firm and was offered a prospecting job in Texas, Louisiana and Oklahoma - operating a gravity meter. I liked the work but as the only single operator, the company kept trying to send me overseas. I kept turning them down but when they handed me two tickets on the flying boat to Egypt, I figured the handwriting was on the wall, quit and came to work for Niagara Mohawk in Utica and then Syracuse.
During the war?
I tried to enlist in the Army, flunked the physical, but the Navy took me. I spent two months at Cornell, three at Harvard, three at MIT and then spent the rest of the war in Philadelphia developing airborne TV systems. I remember the lab had a huge old TV set in it and my friends and I got it working. WPTZ was televising University of Pennsylvania football games at the time and though the TV set was video only, we rigged up an AM radio to get the game audio. Unfortunately the brass found out, booted all the enlisted men out (I was an Ensign at the time) and watched the games themselves.
One of the projects was to outfit three B-17s so they could be remotely piloted. The Army flew them in to our facility, which was a challenge since we only had a 3,500' runway, and we stripped everything possible out of them and fitted them with a nose-mounted TV camera. We'd take them up to 10,000', get them stabilized, and then turn control over to the pilot of a fighter flying next to us. The system worked well.
The B-17's were ferried over to England where they were packed with TORPEX high explosive. The plan was that a pilot would take off in one of them, get the plane stabilized in flight at the 10,000' level, turn control over to the fighter pilot, bail out, and the fighter pilot would remotely pilot the B-17 over to crash and explode in Germany. Just before bailing out, the pilot would throw a switch to arm the TORPEX. One of my friends was scheduled to take the first plane up but he got bumped by a politician's son at the last moment. The replacement pilot took the plane up, and just about the time he would have thrown the switch to arm the TORPEX the plane exploded. The pilot's name? Joseph Kennedy, Jr.
After the war?
The last project I had worked on in the Navy was an aircraft fitted with a powerful radar that would take off and circle at an altitude of 10,000' while transmitting radar images back to the ground. It worked so well that we could circle over Atlantic City and the folks on the ground could count every ship in the NYC harbors. Guess which company won the production contract for that system? GE in Syracuse! So after I got out of the Navy, GE hired me and I came to Syracuse - first working in the old wooden Carrier building and then as one of the first people to move into the newly built Electronics Park. The radar was designed to be used inside a wooden drone during the assault on Truk Island but was not ready in time. A friend told me that it was used later during A-bomb testing on Eniwetok Island.
[Note from N2TKX: I'm not 100% sure but I believe that the system that Charlie is talking about spurred the development of what eventually became the AN/APS-145 Advanced Early Warning Airborne Surveillance Radar. This is still produced by Lockheed Martin in Syracuse and is used in the E-2C aircraft produced by Grumman. Production of this system just seems to go on, and on, and on. In fact, Lockheed Martin just received a major contract to upgrade and improve this radar. By the way, this system can simultaneously track 20,000 targets!]
After the war the FCC changed New York from the 8-area to the 2-area. Since W2EBR was already assigned, they gave me the W2PTD call - bad on voice and worse on CW! One day I was talking with Viv-WA2PUU and she mentioned that you could now apply for a vanity call. I applied for W2AK and received it.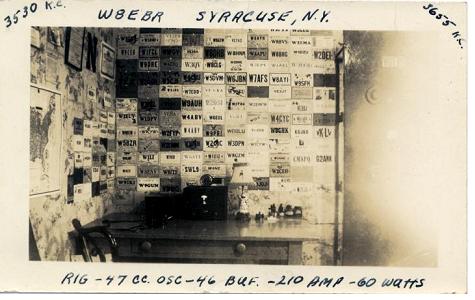 And after GE?
I worked at Electronics Park for about a year but then the lure of running my own business called me, and with several friends we formed "CW Floring & Associates" - wonder where that name came from? We were manufacturer's representatives for a number of items such as: capacitors; transformers, wire (high temperature), cabinets, heatshrink tubing, etc. It was risky because you needed to have enough money to live on for six months or so until you started getting some orders, and even then you only got paid on delivery which might be years in the future. But it worked out OK.
General Electric Heavy Military was not one of our best customers because they made a very few, very expensive products. IBM and General Dynamics with their higher volume, lower cost lines were our two best customers. I remember having arguments with the GE engineers over how their "simple" changes to a standard cabinet design drove the cost up from $1,000 to $3,000!
During the sixties, "Doc" Kaffer-W2PPS, Ray Schmitt-W2ABV and I used to have lunch at Weber's Restaurant every week - at the circular table near the bar. Those lunches eventually evolved into QCWA Chapter 29.
I finally retired from my business in 1986 and had more time for amateur radio, winters in Florida, researching the history of amateur radio in Syracuse, and of course attending the QCWA luncheons at Weber's restaurant.
73, Charlie-W2AK