W1ICP - 31 July, 2000

---
Director 1983 - 1991
Vice President 1991 - 1993
President 1994 - 1996
President Emeritus 1996 - 2000

Lewis G. 'Mac' McCoy
Amherst, MA

QCWA # 8556
Chapter 112

Born June 17, 1916


Amateur Radio legend and former ARRL Headquarters staff member Lew 'Mac' McCoy, W1ICP, of Mesa, Arizona, died July 31, 2000 following a lengthy illness. He was 84.
As a member of the ARRL Headquarters staff from 1949 until 1978, McCoy gained a national and international reputation primarily for his articles in QST and his early work to combat TV interference. 'He became a hero of all the Novices and beginners because his stuff was so down to earth and easy to read,' said retired ARRL Communications Manager George Hart, W1NJM, a good friend.
ARRL Executive Vice President David Sumner, K1ZZ, described McCoy as 'one of a kind' and 'versatile.' Sumner said McCoy 'left his mark on future generations of amateurs as QST's 'Beginner and Novice' editor.' When FM repeaters came along, Sumner said, McCoy made it his mission to educate his ARRL colleagues about their potential.
An ARRL Life Member, McCoy was first licensed as W9FHZ and later became W1ICP. He arrived at ARRL Headquarters in 1949 to fill the job of assistant communications manager for phone. He went on to work in the Technical Department where he was able to take advantage of his ability to explain technical concepts in simple terms.
McCoy earned a reputation as a tireless traveler and goodwill ambassador for Amateur Radio. He first started hitting the road in the early 1950s after TVI had become troublesome for amateurs and soon became the League's TVI expert. McCoy toured the country demonstrating TVI cures for hams and TV service personnel alike.
ARRL Lab Supervisor Ed Hare, W1RFI, credited McCoy with providing the foundation for the ARRL's current RFI expertise in helping hams to deal with interference to consumer equipment and interference to hams from other sources. McCoy also was well-known for one of his projects, 'The Ultimate Transmatch,' an antenna tuner he described in a July 1970 QST article.
After leaving the ARRL Headquarters staff, McCoy continued as a QST contributing editor. He subsequently was a major contributor to other Amateur Radio publications, including CQ.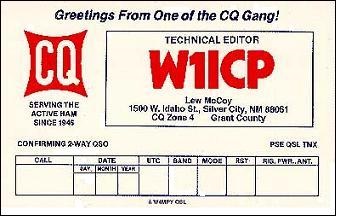 During his active years on the air, McCoy was an avid DXer with more than 300 countries confirmed. More recently, he was active in the Quarter Century Wireless Association, had served as QCWA president and a board member and had just been elected again to the QCWA's Board of Directors, something his daughters never got to tell him before he died.
McCoy's first wife, Martha, died in 1998. Survivors include his wife, Clara Gibbs McCoy, and his daughters, Marsha Ashurst, W1HAQ, and Sharon Armann, ex-WN1GQR, as well as grandchildren and great-grandchildren.
In accordance with McCoy's wishes, there will be no funeral. The family is planning a memorial service for McCoy in early December.
In lieu of flowers, the family is requesting memorial donations in Lew McCoy's name to Hospice of the Valley, 1510 E Flower St, Phoenix, AZ 85014-5656. Condolences may be sent to the family care of Marsha Ashurst, PO Box 2260, Lakeside, AZ 85929.