May 11, 2004 - W1DX

---
Byron H. 'By' Goodman
East Hartford, CT

Byron H. "By" Goodman, W1DX (ex-W6CAL, W1JPE), of East Hartford, Connecticut, died May 11 after a period of declining health. He was 93. A San Francisco native, Goodman was a member of the ARRL Headquarters staff for more than three decades, most of that time serving as a technical editor. Goodman authored and edited literally hundreds of QST articles and columns as well as other League publications, including The Handbook for Radio Amateurs. Former ARRL colleague and retired ARRL General Manager Dick Baldwin, W1RU (ex-W1IKE), best remembers Goodman for his pioneering efforts in SSB and for technical expertise.

"He was a man of many talents," Baldwin said. "He was in the forefront technically--antennas, receivers, single sideband." He said the technical challenge spurred Goodman's strong interest in SSB.

Former colleague and friend George Hart, W1NJM, agreed with Baldwin's assessment. "He was not only an excellent technical man," Hart said of Goodman, "but he probably introduced single sideband to the hams.".

Goodman initiated a series of columns about single sideband in QST in 1948--a good decade or more before the mode eventually eclipsed full-carrier AM on the amateur bands. His first article on the topic, "What is Single-Sideband Telephony?" appeared in that year's January issue.

Longtime friend and golfing partner--and former ARRL Secretary and General Manager--John Huntoon, W1RW (ex-W1LVQ), says Goodman, through his articles, "helped to make SSB what it is.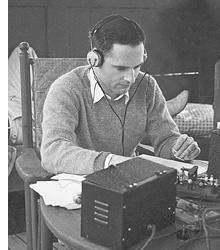 First licensed in 1930, Goodman graduated from the University of California-Berkeley with a degree in electrical engineering. For a couple of years in the mid-1930s, he worked for San Francisco radio manufacturer Remler. Goodman was a pioneer on 10 meters in the 1930s--a time when that band was considered VHF. In 1935, he worked (and later confirmed) J2HJ for the first North America-to-Asia QSO.

His first position upon arriving at ARRL Headquarters in the mid-1930s was as an assistant secretary to ARRL Secretary K. B. Warner, W1EH. But, Huntoon recalls, Goodman was never entirely comfortable in that front-office position. "His interest was always in the technical," Huntoon said. After the untimely death in 1938 of then-QST Editor in Chief Ross Hull, Goodman joined a revamped Technical Department and never looked back.

Over the years, Goodman wrote numerous reviews of new equipment, among them the QST review for then-revolutionary Collins KWM-1, one of the first amateur SSB transceivers. Among his many antenna articles was the classic "My Feedline Tunes My Antenna," which appeared more than once in QST. He also served as the first "How's DX?" editor from 1936 until 1947, and he edited a column of International Amateur Radio Union news.

During his early years at ARRL, Goodman was one of the "Selden Hill gang," which, over the years, included Hull and QST Managing Editor Clark Rodimon, W1SZ, among others. Convenient to the League's location--then in West Hartford--the hilltop boarding house became an "unofficial League residence" (see "The Legend of Selden Hill, QST, Aug 1944, p 44 and "Selden Hill Revisited," QST, Jan 1982, p 65) of that day, providing an ideal location for Hull's 5-meter experiments and for Goodman's HF rhombic. The demonstrable effectiveness of that antenna permitted Hull to occasionally talk to friends in his native Australia, Huntoon said.

While the author's identity was not widely known outside of the ARRL Headquarters family, Goodman wrote a series of QST April Fool parodies under the pseudonym Larson (sometimes "Larsen") E. Rapp, WIOU.

"By had a very great sense of humor, a very dry sense of humor," said Hart, who also remembered Goodman as "quite a character.".

In the April 1960 issue, a phony full-page ad announced the formation of "Larsen E. Enterprises, Inc," supposedly off Route 128 in "Kippering-on-the-Charles," Massachusetts, with Larsen E. Rapp as president. Bearing a "Not a Advertisement" disclaimer, the ad offered customers free access to the company's air-conditioned "Wonder Workshop" with each kit purchase.

"If you don't have the time to assemble the entire kit yourself,