WØZL - June 4, 2007

---
Charles W 'Bill' Cramer
QCWA Member # 6Ø24
Member of Chapter 35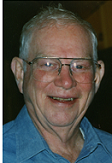 Charles William "Bill" Cramer, 86, passed away peacefully on June 4, 2007, surrounded by his family, at his home in Overland Park, Kansas. Memorial services will be held 10 a.m. Tuesday June 11, 2007 at Southminster Presbyterian Church. A visitation will be held 6-8 p.m. Monday at the church.
Bill was born in Gardner, Kansas on September 22, 1920. He graduated from the University of Kansas in 1942 with a degree in Chemistry. His junior year was spent at Emporia State as the athletic trainer for all sports.
In 1942, he enlisted in the Navy and became a CPO (Chief Petty Officer) Electronics Technician. He was stationed in Adak, Alaska from 1943-1945 where he taught LORAN navigation.
After the war, he returned to Gardner, Kansas to work in the family business, Cramer Products, Inc. and for several years he was president. He holds a U.S. Patent for the design of an ankle brace used in sports medicine. He retired in 1985, and became Chairman of the Board of Cramer Products, Inc. Also, at the time, he was inducted into the National Athletic Trainers Hall of Fame.
In his teens, Bill began an active interest in Amateur Radio. He achieved the status of Eagle Scout. This dedication to excellence continued into his later life. His accomplishments include the building of a 16 foot wooden sailboat, ocean sailing in the Atlantic and Pacific, acquiring a pilot's license, learning the craft of pottery making, mastering flyfishing, playing the church handbells and operating all the latest computer technology.
Bill married Jean Alvord on July 3, 1943 in Gainesville, Georgia. they have been married nearly 64 years. Jean and Bill have enjoyed hosting international students, mentoring young people, attending Elderhostel programs and traveling the "blue highways" together as they explored all parts of the United States and Europe.
At Southminster Presbyterian Church, Bill served as an Elder, participated on numerous committees, taught Sunday school, helped construct Habitat houses and supported the music program.
Bill was preceded in death by his parents, Chuck and Bess Cramer and his brother, John W. Cramer, all of Gardner, Kansas. Bill is survived by his wife, Jean Alvord Cramer; sister, Annette Glickman, Tucson, AZ; sister-in-law, Shirley Cramer, Topeka, KS; brother and sister-in-law, Graham & Jean Alvord, Kittery Point, ME; daughter, June Farson & husband, Dave, Overland Park, KS; daughter, Marilyn Scheer & husband, Rolly, KCMO; son, Martin Cramer & wife, Beth, Olathe, KS; son, David Cramer & wife, Patti, Auburn, Washington; daughter, Lois Partridge & husband, Tom, Arlington, Texas; grandsons, Joel & K.C. Snyder, Jeffrey Farson, Chris Cramer, Bryson Cramer and Rick & Greg Partridge; granddaughters, Jessica Snyder, Libby & Andrea Cramer, Melissa and Amy Cramer and Leah Partridge; great grandson Benjamin Snyder and great granddaughters, Melanie Snyder and Mikala Jobe.
(Arr: Amos Family Chapel of Shawnee 913-631-5566 online condolences may be expressed at amosfamily.com. In lieu of flowers, the family suggests a memorial gift to Southminster Presbyterian Church 6306 Roe Ave. Prairie Village, KS 66208).
Published in the Kansas City Star on 6/8/2007.
---
From qrz.com:
WØZL Charles W.Cramer "Bill".Born in Gardner, KS 9/22/1920. First licensed W9ZLW July 1936 at age 16. Operated CW 10 years on home brew 6l6 TX and home brew two tube regen RX. Antenna end-fed Zepp 600 ohm transmission line. Elmer was John Ott, WØOER. Current equipment Kenwood 570 and IC7000 and new 3 element Stepper beam antenna at 50' that was installed mid-Dec '06.