WØMH

Mark W. Persons
Brainerd, MN

QCWA # 10032
Chapter 8
---
Mark Persons, WØMH, was first licensed as a Novice in 1963 with the call WNØAXD while living in Minneapolis, Minnesota. CW was the way for a Novice to communicate back then. That skill has not been lost over the years. He still has his original straight key. Mark served in the U.S. Army Signal Corps 1966 to 1969. He taught radar at Ft. Monmouth New Jersey and then spent a year as Sergeant in Charge of an avionics repair shop in the Republic of Vietnam. Avionics is the electronics, including two way radios, carried aboard aircraft. Most of the work was done on the U. S. Army OV-1 Mohawk. He has worked as a radio broadcast engineer ever since. His wife Paula is WØHA.

Mark and Paula can be heard on 17, 20, 40, 80, and 160 meters. The HF rig is an Icom IC-751 with an Amp Supply Company LA-1000-A putting 400 watts into a G5RV, a Cushcraft R5, wire loops, or a 20-meter inverted V at 65 feet.

Mark's commercial website is: http://www.mwpersons.com Their personal website is http://www.gilbertlodge.com They live at 10032 Island Drive in Brainerd, MN 56401. The telephone number is 218-829-1326 and the fax is 218-829-2026.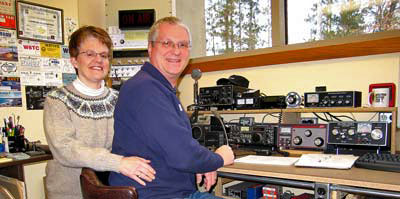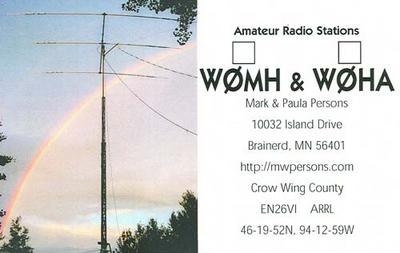 April 3, 2015