WØKHG - August 17, 2007

---
William A 'Bill' Ogden
Annandale, MN

QCWA # 13439
Chapter 8
It is with great sadness I have to report my Father-in-Law, Bill Ogden, WØKHG, passed away this morning 8/17/07 at about 7:00am. Arrangements are being handled by Dingmann Funeral home in Annandale, MN. Please feel free to call me as I would like to write up something nice for the website.

Dan Franz, WDØGUP


---
from qrz.com

Surprise everyone - WØKHG is back!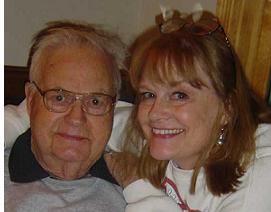 It was previously my Dad's call. (Bill Ogden). Dad died August 17, 2007 after battling dementia. When I learned that it was possible for me to obtain his call, I got my license - KDØFJI and with the help of a close friend, KA6TMQ, I received Dad's call, WØKHG.

This is a picture of my dad and me on Christmas of 2005. He was my inspiration to venture into the world of ham radio. He received his license in the 40s back when "hams were hams." When my brothers, sister and I were very young, Mom and Dad would whistle code to each other thinking it was a secret language we'd never comprehend. To some of us, that was our introduction to CW.

Dad created radios with metal fronts and tubes of many shapes and sizes. He would solder strange shaped things together and droplets of solder would fall to the floor that reminded me of silver raindrops. Mother could have cared less; she very much enjoyed watching him do what he loved.

When we children were very small, our bedtime lullaby was dah dit dah dit - dah dah dit dah. The sounds would go from a high pitched noise to a deep valley low. We believed he was magic and these memories will be forever cherished. Dad was net control of the 10-10 for many years and he was a VE. He was also President of Upper Midwest Chapter 8 of QCWA and ran the Sunday morning net. In addition, he ran a slow speed CW net.

When my husband, Sweet William, met Dad, he was fascinated with the hobby and he got his license (NØZXF.) Bill has also taken great pleasure in listening and transmitting over the years and his passion for the hobby has been a delight for me to observe. Dad died August 17, 2007. My only regret is not having gotten my ticket before he died. He would have been so happy. I can hear him say "Well honey, isn't that nice that you've gotten your Technician license. Now you get working on getting that General."

We all really miss him.

Cheryl (Ogden) Hjortaas
the new WØKHG!


---



I can remember (back in the old days) that Dad had some very close friends who were hams. I particularly recall Ken Christensen and Jim Wayman. Our families were together a great deal of the time. Someone would make a hot dish; others would provide dessert, beverages or whatever they had. One of my brothers was named in honor of these men, Kenneth James Ogden. Those were shining moments in my treasure of memories.

They might hear of a new struggling radio operator. They'd gather our families together while the three (sometimes more) would go to help erect an antenna or assist with whatever tasks the young ham might have. We have always considered that benevolence and kindness to be what identifies a ham.

Dad was a genius with antennas. Ken knew code better than anyone. I believe he was on a ship in the Navy and was known to get up early or stay up late to help anyone become proficient at the key. Jim was the technical guy who would create radios and when he was done it looked as if it was directly from a factory because every wire and every solder was perfect. I believe he worked as an engineer at a TV station. Although they are gone now, their legacy lives on through the people they helped and hopefully passed on again to those in need of assistance.

Cheryl Hjortaas, WØKHG


---
William A. 'Bill' Ogden, (WØKHG) age 87, of Ashby, formerly of Annandale died Friday, August 17, 2007 at St. Mary.s Home, St. Paul.
Mass of Christian Burial will be held 10:30 am Tuesday, August 21, 2007 at St. Ignatius Catholic Church, Annandale with Fr. Victor Valencia & Deacon Ron Freeman officiating. Burial will follow in Woodlawn Cemetery, Annandale. Friends may call from 6-8 p.m. Monday at the Dingmann Funeral Care Chapel, Annandale.
William Aubrey Ogden was born June 14, 1920 at Oakes, ND to William and Ella (Mezaros) Ogden. He graduated from Oakes High School in 1938 and was recruited to play football and track at Jamestown College. He married Helen M. Hart on November 7, 1941 and she died on April 11, 1995. He married Edith Lang in 2000. He was a produce broker living in Richfield, Annandale from 1969-1999, and then in Ashby. He is a former member of St. Ignatius Catholic Church, Annandale and is a member of St. Olaf Catholic Church, Elbow Lake.
He has been a licensed amateur radio operator since 1942 being a member of the 3900 Club, Quarter Century Wireless Association, and American Radio Relay League. He supported & coached youth ball teams and enjoyed being on Granite Lake especially while fishing.
He is survived by his wife, Edith of Ashby; children & their spouses, Cheryl & William Hjortaas of Richfield, William, Jr. & Pamela of Eau Claire, WI, Kenneth & Lynn of Buffalo, Kathy of Brainerd, Patrick & Lori of Waverly, IA, Anthony & Cynthia of Rochester, Thomas & Lucinda of Annandale, Mary & Daniel Franz of Cottage Grove, Lloyde of Great Falls, MT; Edith's children, Andrew & Louise Lang of Ashby, Stephen Lang of Alpine, TX, Mary Mann of Indian Rocks Beach, FL; sister, Ethel Margaret Mohn of Grand Forks, ND; 34 grandchildren; 19 great grandchildren, and special family friends, Cheri Maxwell & Shawn Woltz. He was preceded in death by his first wife, Helen, sons, Keith & John, granddaughter, Alexis, and sisters, Betty Boulden and Billie Richmond.
The pallbearers will be William, Jr., Kenneth, Patrick, Anthony, Thomas & Lloyde Ogden, William Hjortaas, and Daniel Franz. Mary Franz, Kathy Ogden and Ethel Margaret Mohn will provide the music for the service. The arrangements were entrusted to Dingmann Funeral Care of Annandale.
---



Bill Ogden's son-in law, Dan Franz, WDØGUP is an active member of QCWA Chapter 8. Bill's oldest daughter, Cheryl Hjortaas,has obtained Bill's old call, WØKHG, and her husband, also named Bill, is NØZXF. I believe that both of them have Amateur Tech Licenses. I am in constant email contact with Bill and Cheryl. Cheryl checked in to the Chapter 8 two meter net only one time, using her new WØKHG call, and really startled me when she announced her new call!

When I was looking for candidates for Ch 8 offices, in 1986, I called most of the names on that old roster (over 100) with little success. Bill Ogden WØKHG, then volunteered to run for President, he served for several years. Bill was also an officer of the 3900 Club (still on the air) and served for many years as NCS of the 3900 Club Sunday 9AM 75 Meter net with his booming signal from Annandale, MN. Later, he moved to Ashby, MN, and still served as NCS for the 3900 Club net. During all this time, Bill was a very close friend of mine. In fact, the day that Bill Ogden died, Bill and Cheryl Hjortaas made a special trip to see me at my Richfield home to tell me the sad news of his death. I have always appreciated their kindness in coming to my home to tell me.

73,
Don, WØJBX