WØHZ - November 12, 2010

---
Jack C. Chapman
Bloomington, MN

QCWA # 24795
Chapter 8
Chapman, Jack Cameron Age 87 of Bloomington on November 12, 2010. Son of Alice Cecile LaBoissier and Arthur Chapman, was born June 27, 1923 in St. Paul, MN. He has one younger brother, Richard.

Jack earned his first Amateur Radio License in 1938 with the call sign W9JRI, which later became WØJRI. He attended Cretin H. S., a Catholic ROTC school in St. Paul, where he was recognized by the Army as a Shot Expert Rifleman. He won the MN Catholic Conference Singles title for the Cretin Tennis Team and with his brother Richard won the doubles title. He was in the 93rd percentile of his class and a Member of the National Honor Society. In 1940 he graduated from Cretin H.S. and in 1941 he entered into the U of M Electrical Engineering (EE) program.

He enlisted in the US Marine Corps as Staff Sergeant on Dec. 7, 1942, the one year anniversary of the attack on Pearl Harbor. He had hoped to become a Marine radio operator, but due to his experience with Ham radio, the Marines sent him instead to learn the new science of radar at the prestigious and demanding Bellevue Radio Material School at the US Naval Research Lab. in WA, DC, in Feb, 1943. He completed his radar studies on Oct. 16, 1943, for which the U of M later granted him 50 credits. He was assigned to the Marine Night Fighters 531 NAW FNF in the South Pacific, the first to use radar at night. They went to New Hebrides, Guadalcanal, Banika, Russell Islands, Vella LaValla and finally Torokina, Bougainville, where he flew on combat hops strafing over Rabaul. He earned two Bronze Service Stars on the Asiatic-Pacific campaign ribbon for the operation over and occupation of Bougainville before it was secure and for the Bismarck Archipelago Operation near Rabaul. The ship that took him home, the U.S. General Morton, was equipped with radar, so he asked to serve as radar technician. Jack fixed the radar equipment four times, and guided the ship through precarious situations using his radar expertise, earning the American Theater Campaign Bar. He was discharged honorably Sept. 17, 1945.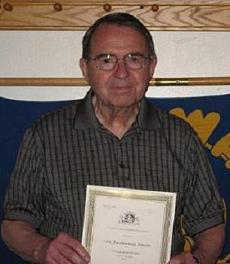 Jack returned to the U of M and graduated from U of M in Dec., 1946, with a B. S. degree in EE.

Jack befriended Mert Christgau, a fellow EE Major from his class at U of M and ham radio operator, and met his future wife, Genevieve Christgau, Mert's sister, the day she returned home from her work with the Army Nurse Corps in the European Theater. He married her on Feb. 18, 1949, and now they have 7 children, 16 grand- children, and 5 great-grandchildren, Jane Gilbert-Howard (husband: Ken Howard; children: Peder (son: Thaden), Bryan (wife Tracy; daughters: Emma and Clara, son Gunnar); Jon (wife: Brooke), Angela (fiance Jim Fritz) and Daniel (wife Linsey), Susan Bailey (children: Sean (wife Sarah), and Brian), Daniel Chapman (wife: Louaynne; children: Alan (wife Kelly; son Gabriel), Eric (wife Emily) and Mark), Ilene Warneke (husband Gregory; children: Barbara, Melissa), David Chapman (wife: Toyzoyaha; children: Russell, Kyra and their mother Melissa Chapman), Judith Jeon-Chapman (husband Olympio; children: Cameron, Jacqueline), Carol Bernacchia (husband Bruce).

After graduation Jack began working for 3M company where he worked his entire career, as plant Manager of the 3M Plant in Hutchinson, MN (1960-1966), and later, in St Paul, as Manufacturing Director of Magnetic Products International Division. He holds a patent for inventing the high speed video duplicator with a team of scientists at 3M. He retired in 1982 and volunteered for 25 yrs at Pax Christi Catholic Church and 20 yrs at Bridging Inc., which provides household goods to the needy.

Ham Radio has been Jack's lifelong hobby, leading him to the Night Fighters, engineering and friendships around the world. He earned the FCC Adv. Class License and a shorter call: WØHZ. A member of the elite First Class CW Operator's Club (FOC) by invitation, he remains on the CQ DX Honor Roll for contacting on CW 333 of the 339 recognized countries, which places him 6th in USA.

Mass of Christian Burial 11 AM Wednesday, Nov. 17 at The Church of St. Edward, 9401 Nesbitt Ave S, Bloomington. Visitation 1 hour prior to service. Interment Dawn Valley Memorial Park. Memorials preferred to Bridging Inc. or St. Edward's. Washburn-McReavy Werness Brothers 952-884-8145