WØDKL - January 6, 2015

---
Miller, Carroll "Ben" Age 103 of St. Louis Park, MN. Survived by wife Annagrace Miller, daughter Carol Ann Timmons (Bob), son Robert H. Miller (Laura), 6 grandchildren, 10 great-grandchildren, 2 great-great-grand-children; 2 sisters: Lorraine and Bonnie. Service 1 PM Friday, January 9th, 2015 with visitation 1 hour prior. Aldersgate United Methodist Church, 3801 Wooddale Ave. S. St. Louis Park, MN 55416. Interment Lakewood Cemetery, Minneapolis. Memorials preferred to Aldersgate UMC. www.Washburn-McReavy.com Strobeck Johnson 952-938-9020

Published on January 8, 2015 - Minneapolis Star Tribune
---

Ben on his 100th Birthday 10/22/2011
Carroll B. 'Ben' Miller
St Louis Park, MN

QCWA Life Member #1573
Chapter 8

Brass Pounders League
Past SD Section Traffic Manager
Licensed: 1929
---
This is a culmination of information starting with the arrival in the United States of America from Germany of the Gustave Henry (Jost) Miller family in 1850 and the arrival of the August Polchow family in 1887.
The Gustave Henry Miller family first settled in Ohio but shortly moved to Sandwich Illinois where they brought up their eleven children one of the being my Grandpa, Henry Earnest Miller who had been born in Schshelden, Germany on May 22, 1849. Grandpa Miller married Elizabeth Catherine Braun on April 9, 1867 and in 1884 they hit the pioneering trail and staked out land claims on the prairies of South Dakota in 1884. They endured many hardships like living in a sod shanty. Imagine leaving Illinois with four small children in a covered wagon to seek their fortune on the prairies of South Dakota. Grandma and Grandpa Polchow came to America from Neukalen, Mecklenburg, Schwern, Germany in 1887 settling at Pecatonica, Illinois. August and Johanna moved to Burdette, South Dakota to the farm South Dakota Prairie in 1903. They retired from their farm moving to Redfield, South Dakota in 1913.
I don't know how my mother and father became acquainted but they were married on November 14, 1909. I do not know how my father, Benjamin Walter Miller and mother, Emma Helen Mary Polchow acquired their farm but it was a part of the land that my grandfather had pioneered and staked out in the federal land grant.
When did I come into the picture. It was a cold snowy October 22, 1911. I have been told of the difficulty the doctor had in getting to our farm which was seven or eight from Tulare. A long drive in horse and buggy even in good weather.
My days on the farm numbers from 1911 to 1923 with many learning experiences along the way. The days on the farm were not the easiest. I remember the kerosene lamps for night lighting and reading. The kerosene lantern for doing the barn chores like milking or cleaning out the barn. The central heating plant, a big hard coal stove with its isinglass windows setting in the middle of the living room. This was the only way the house was heated. What a glorious day it was when dad bought a Kalamazoo furnace which he installed in the basement. He had big pipes going out the side of it to each room with it's on wall registers. Now the rooms were more evenly heated.
There was advancing technology in those days when dad brought home that new Graphaphone. We would crank up the old spring wound motor and then listen to the latest music on those old hard rubber phonograph records.
Oh yes! That new gasoline contraption was just coming onto the market. We called it a touring car. I don't know how much touring one could do because the only roads were two parallel ruts that were made by other cars, horse drawn buggies or lumber wagons. These cars came with tools kits and tire patching equipment. Yes both got plenty of use. I remember our having an Overland which had the bad habit of breaking axles, especially if you let the clutch out a bit too fast.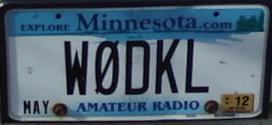 I remember another occasion when mother had been somewhere with us kids and she was putting the car into the garage (it so happened that these cars needed continual work so dad had put a small pit in the middle under where the car would park so he could work on the engine) and she didn't get lined up right so one front wheel ended up in the pit. I don't think she ever drove again.
There was a typical country school about a mile from our home but if you walked you would have to go around a neighbors farm making the trip almost two miles. Yes, you could cut across the farm but there was always that mean old bull in the pasture that you didn't dare challenge. In the winter neighbors would take turns picking up the kids in a bob sled with a canvas cover over the wagon to keep off the cold and snow. The school was like you have read about. Teacher comes to the school early and fires up the big pot bellied stove so the kids could find a fairly warm school. All eight grades were taught in a single room, The schedule was much the same as now. School started at nine in the morning. Recess at ten thirty which lasted for fifteen minutes.. Bag lunch at noon with play period before resuming school at one in the afternoon. Another recess at two thirty and then ready for home at four. In spite of all the grades being in one room and the teacher having to teach all grades at once we did get a good education.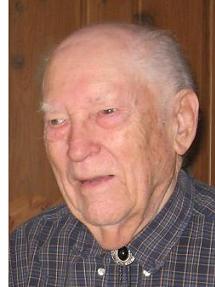 On a farm there are many interesting and unusual things that need attention and dad was a very capable person. He and Mother built our house and barn. I remember going with him when he and another man built a neighboring town hall building. There were many trips dad and I made to Tulare with the lumber wagon hauling grain, cattle or pigs to market. I remember our shopping for supplies after unloading whatever it was we brought to market. Dad always bought some ring baloney which we ate on our way home. My uncle Henry owned a thrashing rig and every fall he got a crew together and thrashed farm to farm. I remember on one occasion when we were thrashing the southwest ninety and I was on top of the separator when I looked to the west maybe a few miles away I saw a big black cloud hanging down from a cloud base, It was not the small shaft we see many pictures of but this one was a typical funnel shaped cloud with a tail beating on the ground. It goes without saying that when I sounded the alarm it didn't take long to shut down the thrashing operation and head for home. We go t there just before the storm hit. The twister passed just north of our buildings but because of the strong blast of air it did twist the barn some and it had to be straightened.
As so often happens kids do get into trouble. There was the time when Beulah, Lucille and I were playing with mothers hand driven hashing machine. I was pumping the handle to make it run and Beulah and Lucille had found something to stuff into the gears(it seemed like so much fun) until Beulah got her right index finger into the gear. She has had to live with this bad childish mistake. On another occasion the girls were out horseback riding and Lucille fell off her horse and broke her arm but luckily the arm mended perfectly.
There were ups and downs during the years on the farm. After World War 1, there were a couple depressions in the early twenties that resulted in family financial problems. This caused my dad to decide to join his brother in their garage business in Redfield. This resulted in an auction sale of all the farm property and the family moving to the big city of Redfield. Dad was a very capable mechanic so his lat was the repair of automobiles. In those days you repaired whatever went wrong. Rebuilding generators, starters or pouring Babbitt for bearings and fitting them to the crank shafts. Everything that needed to be done was done by hand. You couldn't go out and buy those parts as is done now.
It was the summer of 1923 that we (Mother, Dad, Beulah, Lucille, Wayne and me) moved to Redfield. My first recollection of city experience was when I started school. The first day of school was one I've never forgot because in the country school you stayed for the day. In the city school I didn't know you went home for lunch so when everyone went home I stayed and played in the school yard. It wasn't too long before Beulah came up looking for me and informed me that I was to go home for lunch. It didn't take long after that for me to catch onto the routine. Another thing that happened in school was, on day (my teacher was Miss Buchanan) while sitting at my desk minding my own business I heard a big crack behind me. It so happened that Blacky Graves, a proverbial mischief, was seated just behind me and was up to some mischief when Miss Buchanan let him have it with a ruler, believe you me it did scare the wits out of me. What would happen today if some teacher should do that.
The years in Redfield I look upon as my developmental years. This is the time I became very active in scouting running up an impressive list of merit badges which helped be to develop a wide range of interests.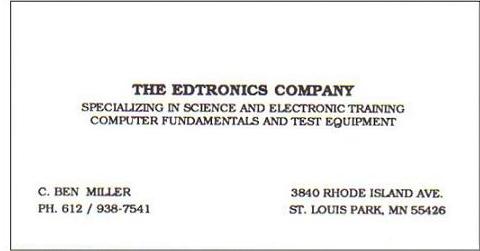 When entering high school I was informed that I should be looking for a job. In seeking employment I came across an ad in the local paper that the State Theatre was looking for a young man that would be interested in learning to become a projectionist. I applied and got the job. As a result I spent eight years working at the Sate theatre and the Lyric Theater. This was an interesting period in the movie industry as my first couple years were of the silent movie area to be followed by talkie movies then followed by colored movies.
During this interim I became interested in Aviation and deeply interested in Radio, as it was called. The aviation interest was stimulated by Lindberg's crossing the Atlantic in 1927 but it didn't progress beyond a childish interest, at least not until 1966 when I started working on my private pilot's license. Radio did grab a hold and I have been involved with it all these many years. It's now called Electronics. It was in 1929 that I first acquired my Amateur Radio License W9DKL. It was this year when I took a correspondence course in Electricity receiving my diploma in 1930. This was in addition to my routine high school studies graduating in 1932.
My Radio/Electronics work lead me to move to St. Paul, Minnesota on February 15, 1934 and my joining the Lew Bonn Co. a radio jobber who was heavily into supplying radio components to the Radio Amateur, Broadcaster, Radio Serviceman and Radio maintenance people. In the years of 1934 to 1940 my work at the Lew Bonn Co. keep me in contact with many radio engineers. It was in 1937 that Mike Flemming and I designed and put on the air for WTCN the first High Frequency Broadcast transmitter in the twin cities. It operated on a frequency near the 30 MHz amateur radio band. This was a fore runner to current day FM broadcasting.
It was on May 11, 1940 that I married Annagrace Anderson and we have enjoyed a very good marriage of 55 years. On December of this year that I left Lew Bonn Co. to join Northwest Airlines to become their Aircraft Radio Specialist. My work entailed servicing and maintaining the airborne, aircraft to ground communications equipment. On July 1946 I left Northwest Airlines to return to the Lew Bonn Co. to head up their purchasing department. As the years progressed I served in many departments mostly in management capacities. I was closely in contact with newly developing companies and electronic technologies. I feel fortunate to have been intimately associated with the developments in our industry. I have seen the changes from silent movies, sound movies, colored movies, radio broadcasting, FM broadcasting, black and white television, color television, digital electronics, computers, etc.
It was in March 1972 that Lew Bonn Co. was sold and I set up the Edtronics Co. and been supplying our educational faculties with their training and electronic needs.
---
| | |
| --- | --- |
| NØUF pesents Ben his 80 Year Award | |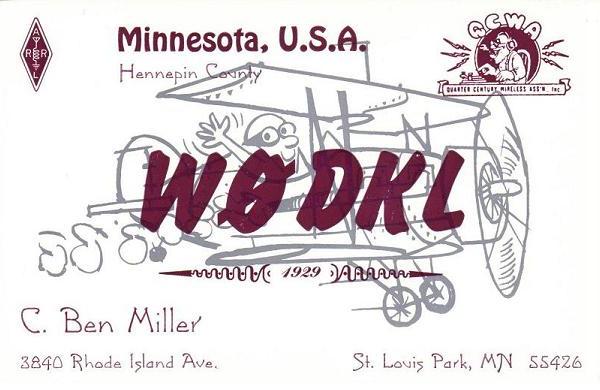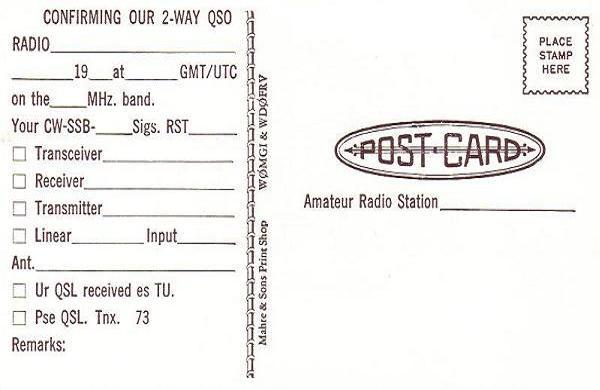 Twin Cities Radio History
Letter to QCWA Chapter 8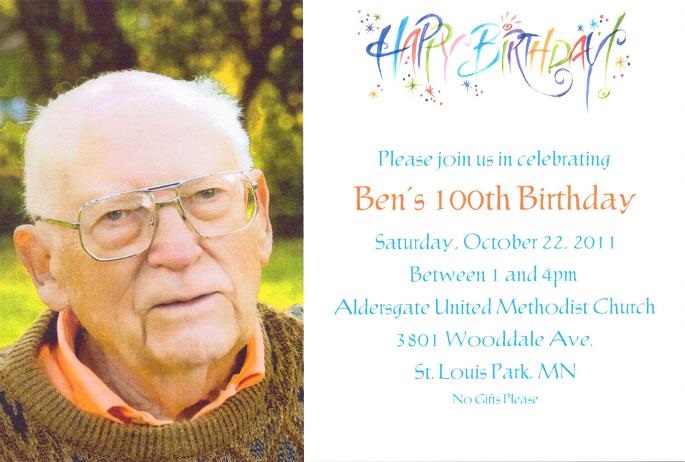 This was written in 1995, Ben lent his hard copy to me in January of 2010 so I could get it published, online and in the QCWA Journal. I have not made any changes to this document, it is as Ben put it to paper, 15 years ago.

Ben met Grace at Lew Bonn, where she also worked.

He operated Edtronics Co. until mid to late 1997.

Ben was present at the original QCWA chapter organizational meeting at the St Paul Hotel on June 8, 1957. I don't know why he and several others were not listed as charter members!

73,
Bob Roske NØUF,
President QCWA
Chapter 8 Secretary
---