WØAR - May 1, 2009

---
Albert L. 'Lee' Bergren
Kanasas City, MO
QCWA # 4237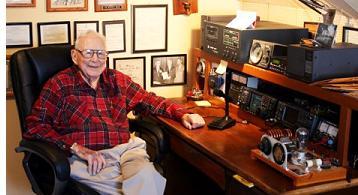 Albert L. 'Lee' Bergren - WØAR
Albert L. 'Lee' Bergren, 93, Engineer- Businessman & Mentor, passed away May 1, 2009 at St. Joseph Medical Center after a brief illness. The family will receive friends from 10:00-10:30 am, Tuesday, May 7, 2009 (Tuesday is May 5, May 7 is Thursday) at the Lutheran Church of the Resurrection, 9100 Mission Rd., Leawood, KS. A memorial service will follow at 10:30 a.m. Private inurnment will be at Forest Hill Cemetery. Memorial contributions may be made to American Heart Association.
Lee was an accomplished electronics engineer, author, designer and advisor with special accomplishments in the field of antenna and radio amplifier design. He was co-founder of Radio Industries of Kansas City. Lee was a graduate of the University of Kansas and worked during World War II as a designer in the tube division of General Electric Company. During the war he returned to Kansas City as Chief Engineer of Aireon Manufacturing later was appointed Chief of research and development for Great Lakes Pipeline Company. Lee was a life-long amateur radio operator and led or participated in many of the first radio-operating expeditions to areas of the world where there was little or no short-wave activity. He encouraged other ham radio operators to develop the practice called "DX-ing," and was inducted into the National DX Hall of Fame in 2002. Lee developed the multi-element cubical quad antenna and published his results in a seminal article in QST Magazine in 1963. That same year, Radio Industries brought out the "Loudenboomer" amplifier which established a paradigm in the high-frequency amplifier field. Lee was an advisor and mentor to young engineers and radio enthusiasts and was co-founding member of the Kansas City DX Club, the Mid-Continent Chapter 35 of QCWA, and was a Life Member of the American Radio Relay League.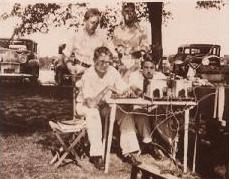 Lee married Betty Franks in 1979 who survives of the home. He also leaves behind hundreds of friends worldwide and a large group of acquaintances in the Kansas City area, many of whom he met every Monday and Thursday for lunch, a tradition he maintained for more than forty years. A deeply committed Christian, Lee was a member of the Lutheran Church of the Resurrection and generously supported Bethany College, Lindsborg, Kansas, a Lutheran organization. (Arrangements: Muehlebach Funeral Home, 816-444-2060 www.muehlebach chapel.com)

Published in Kansas City Star on 5/3/2009
---
Lee Bergren (WØAR) died at 6:30 p.m. this evening, May 1. Services will be held at Resurrection Lutheran Church, 91st and Mission Road, Overland Park, KS., on Tuesday, May 5th at 10:30 a.m. A visitation will be held before and/or after the service (plan not yet complete). The world has lost a fine, fine gentleman. Dick (KØKUD)
---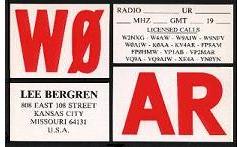 Lee was first licensed in 1932, QCWA Life Member # 4237 and a member of QCWA Mid-Continent Chapter 35 in Kansas City. It was my pleasure to know Lee throught the Kansas City DX Club and QCWA Chapter 35. It was my honor to have Lee's support in the 2008 QCWA Presidential election. The world of Amateur Radio is diminished with his passing. 73 Lee, Rest in Peace.

Bob Roske, NØUF
President QCWA
Past Secretary QCWA Chaptrer 35
Past Vice President KCDXC
---
May 1, 2009, at 9:54 PM, Brian Short, KCØBS, wrote
Lee was an amazing man. I only got to know him in the last couple of years, but he has been my role model since I met him. I can't imagine a kinder, more giving man. He lived life to its fullest, and was blessed with 93 years (78 as a ham!)

We should all strive to live up to his example.

Brian L Short, PMP--KCØBS
JOCO ARES EC