VE6ABD - March 23, 2004

---
Paul Christansen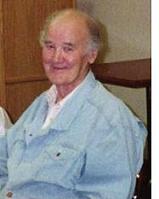 VE6ABD - Paul Christiansen, died March 23, 2004 at age 81. Bruce Collisson, VE6BAC stated Paul was a Second World War vet with a DFC and never married.
Paul Christiansen was licensed in 1959 as VE6ABD at age 44. He served in WW-II as an RCAF pilot.
Paul lived in Ponoka, Alberta and commuted to Red Deer, Alberta (35 miles) to teach Industrial Arts at Central Memorial High School. When he retired he stayed in Ponoka, Alberta until he passed away March 23, 2004 at age 81. Paul was never married.
Paul joined QCWA in 1988 and served as Director and Vice President for Wild Rose Chapter 151.
The picture of Paul was taken in 1996. This is the latest photo I have of Paul.
Ken Oelke, VE6AFO
President - Chapter 151
Al McNeil, VA7QQ
Secretary - Chapter 151