VE3IO - February 4. 2010

---
Frederick D. 'Fred' Green
Ottawa, ON
QCWA # 11514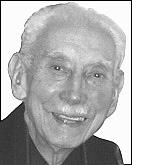 GREEN, Frederick Douglas Passed away peacefully in hospital Feb 4th 2010 at the age of 93. Beloved husband of Marian Green (deceased). Cherished father of Larry (Madeleine), Alison, Kevin (Karen). Loving grandfather of Shelley, Barry, Ross, Steven, Carolyn, and Melanie. A memorial service will be held at Southminster United Church, 15 Aylmer Ave (Bank St. at the canal) on Friday Feb 12th at 1:30 pm. A reception will be held at the church after the memorial service. Donations may be made to the Canadian Cystic Fibrosis Foundation (Ottawa Chapter), or the Canadian Cancer Society (for breast cancer research).
---
Fred was a founding member of EVCO in 1980, and awarded a lifetime membership in 2000.

Fred was interviewed by the University of Saskatchewan in 2007 about electric vehicles.

Fred's passion for life, his family, and for improving our planet, was an inspiration to one and all who met him. Here are some pictures of Fred. Thank-you, Fred, for your advice, encouragement, leadership, inspiration, and friendship. May Fred's dream for everyone to "drive electric" come true


Fred Green and his grand daughter, showing his red electric Jetta
at EVCO EV Expo 2007.

Fred discusses his silver electric Jetta with Craig McMahon
at EVCO EV Expo 2006.

Fred and his red electric Dutton
at EVCO EV Expo 2006.
EVCO photos by Allan Poulsen
---
"They seemed eternal, but they were not"
Death steals away the very permanence their lives implied
The Ottawa Citizen February 21, 2010 By Kelly Egan
excerpts:
Fred and Marian Green are not household names, but what lives they had.

Fred was a founder of the Electric Vehicle Council of Ottawa and one of his vehicles sits in the Museum of Science and Technology. He could expound on electric cars for hours and, on that point, he was a man ahead of his time.

A tall man with a little cookie brush moustache, he died Feb. 4 at the age of 93.

When I first met him in 2006, he showed me his oddly-shaped electric bicycle and insisted I drive his electric car - one of six he owned in his lifetime - a converted 1985 Jetta.

Marian made tea and served cookies in the big old house on Riverdale Avenue. She is gone, too.

Fred had a PhD in physics and was an incorrigible tinkerer.

He was born on a farm about 10 kilometres west of Moose Jaw, Sask., in 1916. Times were tough. During the Dirty Thirties, he remembers, the goats were so hungry they ate the paper labels on tin cans.

In his early 20s, he became a school teacher, once teaching 43 students from Grades 1 to 10 in a one-room schoolhouse. He and Marian were married in 1948 and moved to their home, on the hilly end of Riverdale, in 1949.

He spent the bulk of his working life as a scientist with Canada's Defence Research Board, retiring in 1978 after a career that took him to the Arctic, and under its oceans in submarines.

The couple knew their share of hardship.

They had six children, but three died of cystic fibrosis - one in childhood, the other two in young adulthood.

Mr. Green's oldest son, Larry, 58, said his parents - despite the immense sense of loss of their own children — actually fostered other children suffering from the disease.

His father, added Larry, actually developed his own version of what became known as a nebulizer, which helps introduce medicine to a misting tent that can be critical to keeping a cystic fibrosis patient alive.

His parents were dedicated volunteers. Fred was involved with the Kiwanis Club, was a longtime ham radio operator and is credited with an early water-quality program on Otty Lake, site of the family cottage.

After Marian died, Fred eventually settled in the Glebe Centre, pining for his "stuff" at the house on Riverdale, missing his wife, and battling pneumonia on and off, until it killed him.