VE3HIR - March 10, 2009

---
Laetitia 'Tess' Hardie
Kincardine, ON Canada
Born 1933
QCWA #30121
Member of Ch 73, CLARA,
the GERITOL Net and ONTARS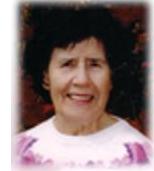 Beloved wife of Bill Hardie. Dear mother of Julie Farmer, Ken (Suzanne) Martens, Tony Farmer, Kathy Farmer, Fleur Farmer and Jane (Robert) Cater . Lovingly remembered by many grandchildren. Predeceased by her son John Farmer, three sisters and two brothers.
Tess worked at Kincardine and District General Hospital for 29 years, the last 27 years as a Physio Aid.
The memorial service will be held at Davey-Linklater Funeral Home, Kincardine on Friday, June 19, 2009 at 2:00 p.m. with Rev. Susan Samuel officiating. Interment, Kincardine Cemetery. Memorial donations to the Canadian Cancer Society would be appreciated as expressions of sympathy.