---
I just received the following message from Jack Sproat, W4JS,
Secretary of Chapter 53
--------------------------------------
We just learned that TARC member Croft Taylor-VE3CT, while en route to his winter home in Nokomis, suffered a heart attack in Jacksonville and passed away on 17 November.

Croft was president of the Quarter Century Wireless Association 2002-2004. More recently, the Board of Trustees of the Canadian Amateur Radio Hall of Fame appointed Croft to the Radio Amateurs of Canada Hall of Fame for 2009. At the May 2010 meeting of the QCWA board, Croft was awarded the 2009 QCWA "Hall of Fame."
-------------------------------------
Walt Supina N3WS
Secretary, QCWA
---
Croft has served as a Director and headed two very active committees. He was first licensed in 1950 and has held several VE2 and VE3 calls since then. While in the University Croft joined COTC and pursued a military career in the Royal Canadian Corps of Signals, retiring as a Lt. Colonel. Afterwards he joined Bell System in Canada and directed a team of senior engineers in a long term planning of Canada's major telecommunications networks, and their integration with similar USA networks. At the same time he chaired the Carrier Working Group whose mandate was to develop fail safe high density networks for the military.

Croft's major contribution to the Amateur Community was the development of a program with The Bell System to distribute surplus Bell teletype and Data equipment to Amateurs in North America. He personally handled about 5000 tons of such equipment during its distribution. He is a QCWA Life member and a member of several Chapters in Canada and in the USA.
---
I had the pleasure of knowing Croft for 13 years, he was a gentleman in every sense of the word and will be missed by everyone.

73 my dear friend, Rest In Peace
Bob Roske, NØUF
President, QCWA
---
It is with deep regret and sorrow that I have just learned of the passing of Croft Taylor, VE3CT, a fine gentleman, friend and dedicated amateur radio operator. I cannot remember when I first met him but I do know that for the last ten years he and I have crossed paths many times whether it was a national convention, QCWA QSO Party, Orlando HamCation or a meeting of our local Chapter 45 of which I am proud to say, he was a member.

Our heartfelt condolences to his wife Elizabeth and his family. May he rest in peace.

AL LaPeter, W2AS,
President, Chapter 45, QCWA.
---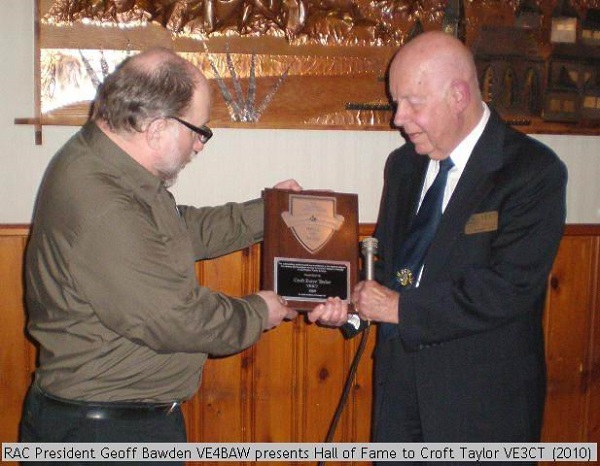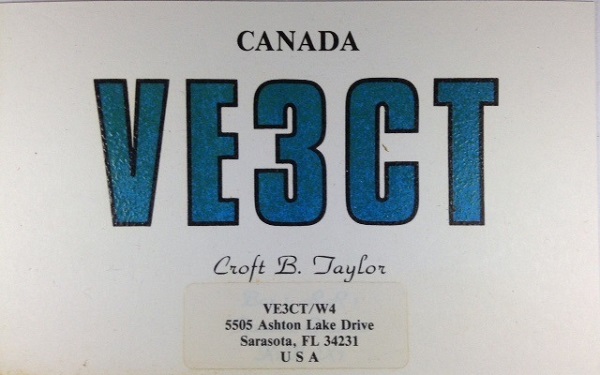 QSL Card from the NL7XM Callbook Collection

At the 2008 Convention