VE3AR - March 20, 2010

---
William W. 'Bill' Loucks
Toronto, ON, Canada
QCWA # 17090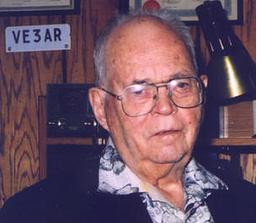 WILLIAM WENTWORTH LOUCKS, U.E. P.ENG. VE3AR

On March 20, 2010 at age 88. Beloved husband of the late Helen (Macaulay) for 64 years, father of Heather (Legault), Roy and Robert, grandfather of Scott and Kevin (Legault), and David and Christine, great grandfather of Ariel.

Bill was born in 1921 in Regina and graduated in 1943 in Engineering Physics from the University of Saskatchewan. He served with the RCNVR as a Radar Officer on the teaching staff of Signals School, Saint-Hyacinthe, Quebec, and at sea where he received a Commendation from the Admiral for technical development in ship-borne radar. In 1947 he joined the Hydro-Electric Power Commission of Ontario, later to become Ontario Hydro, as a Research Engineer, then Methods Manager in 1955, followed by a variety of other positions, retiring in 1982 as Manager of Computer Processing. Bill also was an instructor in the 1960s in a four-year program offered by the Extension Department of the University of Toronto in cooperation with the Canadian Industrial Management Association.

He was active in many professional organizations during his career, including APEO, AIEE, AIIE, CEA and CSA.

Bill was an avid amateur radio operator, being licensed in 1936 at age 14. He held the call signs VE4ABR prewar in Regina, VE3BFP in 1946, VE3AR since 1947, and the British call G4MNI since 1981, as well as being custodian of VE3JJ for West Side Radio Club of Toronto. He served in executive positions of ARRL, CRRL, RAC and QCWA, and also represented amateurs on the Radio Advisory Board of Canada, a federal agency later to become the Canadian Radio Technical Planning Board. But his prime interest was the Amateur Radio Program of the Canadian National Institute for the Blind, first becoming involved in 1971 and serving as Chairman from 1990 to 1999.

Bill was invited in 1971 to join the First-Class CW Operators' Club (FOC), a British based world-wide association of morse code operators with membership limited to 500. Bill was inducted into the Canadian Amateur Radio Hall of Fame in 1995, being the fourth person so honoured. Bill was a Life Member of West Side Radio Club of Toronto, Radio Amateurs of Canada, Quarter Century Wireless Association, Royal Canadian Military Institute, and a Lifetime Honourary Member of James Gardens Lawn Bowling Club.

He served on the Official Board of Kingsway-Lambton United Church for 27 years, including being Chairman of the Committee of Stewards.

Funeral Service will be held at the Turner & Porter `Yorke' Chapel, 2357 Bloor St. W., (at Windermere, east of the Jane subway) on Friday, March 26, 2010 at 3 p.m. with visitation from 2 p.m. until the time of Service.

If desired, donations may be made to a charity of your choice.

Notice in The Globe and Mail. 73, Barc Nutter, VE3HAH
---
Memories by Bill Loucks, VE3AR - on "The Wireless Set No.19" website @ http://www.qsl.net/ve3bdb/index.html
---
(from www.qrz.com)
Hi! This is Bill VE3AR. I was first licensed in 1936 as VE4ABR in Regina, Saskatchewan, at age 14, and hold Canadian Certificate of Proficiency in Radio, Amateur, number 3354. After receiving a B. Eng. degree in Engineering Physics in 1943, I joined the Royal Canadian Navy as a Radar Officer (Lieutenant) and in 1945 returned for work on a M. Sc. in Radio Physics. In 1947 I joined the Research Division of Ontario Hydro in Toronto, the electric utility serving Ontario, retiring in 1982 as Manager of Computer Processing, after 35 years of service.

I served a variety of ham organizations as either Chairman, Director, President, Secretary or Treasurer. These include the Radio Society of Ontario, the Canadian Division of ARRL, the Canadian Radio Relay League, Radio Amateurs of Canada, and the Amateur Radio Program of the Canadian National Institute for the Blind. In 1995 I was inducted into the Canadian Amateur Radio Hall of Fame. I am an Honourary Member of West Side Radio Club, a Life Member of Radio Amateurs of Canada, Quarter Century Wireless Association, Royal Canadian Military Institute, and an Honourary Life Member of James Gardens Lawn Bowling Club, and served on the Official Board of Kingsway-Lambton United Church for 27 years.

My radio activities now are confined to operating my station on all 9 hf bands plus 144 and 440 Mhz. I am an avid cw operator being invited to become a member of The First Class C.W. Operators' Club in 1971(FOC #1103). I enjoy equally rag chewing and dxing, whichever turns up.

I also hold the call G4MNI and am custodian of VE3JJ, the call of West Side Radio Club of Toronto.