VE2CV

John S. 'Jack' Belrose
Ottawa ON, Canada

QCWA # 32361
Chapter
---
Jack received BASc and MASc degrees in electrical engineering from the University of British Columbia, Vancouver, B.C. He joined the Radio Propagation Laboratory of the Defence Research Board, in Ottawa, Ontario in 1951. He received his PhD Cantab degree from the University of Cambridge in radio physics in 1958. From 1957 to 1998 he was with the Communications Research Centre Canada (formerly Defence Research Telecommunications Establishment).

When he retired, he was director of the Radio Sciences Branch. In honor of a 50-year career in radioscience, he has the status of an emeritus researcher at CRCC.

Jack was deputy chairman and then chairman of the AGARD (Advisory Group for Aerospace Research and Development) Electromagnetic Propagation Panel from 1979-83. He was a special rapporteur for ITU-Radiocommunications Study Group 3 concerned with LF and VLF Propagation, and in this capacity authored two major reports concerned with propagation in these frequency bands.

Since 1981, he has been a technical advisor to ARRL in the areas of radio communications technology, antennas and propagation. Jack is a life member of the Antique Wireless Association and the Quarter Century Wireless Association and a life senior member of IEEE (Antennas and Propagation Society). He has been a licensed radio amateur since 1947 - present call sign VE2CV, ex-VE7QH, ex-VE3BLW.

He is the author or co-author of more than 150 papers, articles, and technical correspondence letters written relevant to the fields of radio communications, radio science, antennas and propagation; author of two chapters in a Prentice-Hall book Physics of the Earth?s Upper Atmosphere; author of a chapter in an IEE 1983 publication The Handbook on Antenna Design; lecturer, AGARD Lecture Series and director for four published lectures; author of five papers concerned with the history of wireless and a chapter of History of Wireless published in 2006 by John Wylie & Sons.

In these most recent years, Jack said, "I have been concerned with research in the field of computational electromagnetics (antenna problems).

"Since 1992, researching the history of radio, I have written a number of papers promoting the recognition of the contributions of Canadian born Reginald Aubrey Fessenden (1866-1932) to the development of radio," he said.

I've had the pleasure of attending RCA technical symposiums where Jack has made presentations, including one where he explained how Fessenden modulated a spark transmitter for the earliest transmission of sound via radio. Jack built demonstration models of the equipment configuration. He played a recording of what the transmission probably sounded like.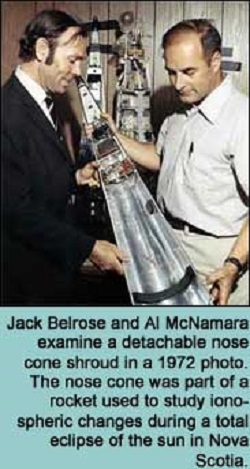 November 19, 2014