QCWA Celebrates Fifty Years by Wes Randies, W4COW, QCWA Historian
(This material was published in the Summer issue, 1997,
on the 50th anniversary of QCWA's organnization.)
Frank Lester, W4AMJ, Chapter 13


As we stated in the last issue of the Journal we are celebrating our - 50th year. Of the 54 original Charter Members we still have 5 of them living, active, and still very interested in QCWA. We are trying to feature one or more of the 5 in each issue of the Journal this year. The following are recollections as told by Frank Lester. W4AMJ, Charter Member 13.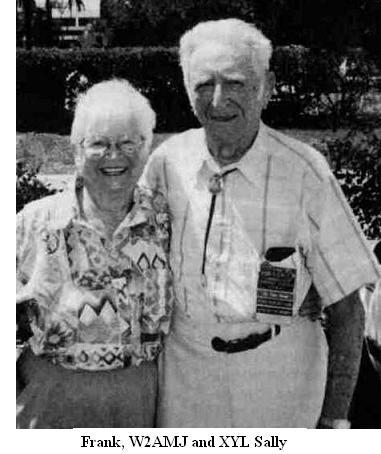 Frank is not only one of our Founding Fathers; it was Frank who suggested the name 'Quarter Century Wireless Association' and that name was adopted by the Founders. Frank says it was around 1919-1920 that the wireless bug hit him. His high school shop teacher wanted a graduating class project and Frank suggested a Loose Coupler Crystal set. The teacher agreed if he would take over the purchasing of the materials required and instruction, then help him build a model sail boat. Of course Frank agreed. As a result he wound up with one of the crystal sets and a table as a bonus. Upon graduating he was also awarded with a medal for his efforts.
One of the girls in the class introduced Frank to her dad who wanted to learn the code. He was an engineer on the New York Central RR. They took a liking to each other and got together twice a week until they both thought they were doing quite well even though they had no idea what their speed was.
In about 1921-1922 Frank swapped his bike for a FADA tube panel. This consisted of socket, rheostat and binding posts allowing you to replace the crystal detector with the UV200 tube. A storage battery and B batteries completed this set-up and enabled them to hear KDKA in Pittsburgh for the first time.
After this he built a Honeycomb Tuner set regenerative detector with two stages of audio, and a Magnavox horn loud speaker. He lived on the top floor of an apartment house so he stuck the loud speaker out the window and let the neighborhood listen to the Carpenter fight. He says there must have been several hundred people listening.
About this time Frank met Bill Colvin, 2CRI and they became very good friends. In nothing flat he was bootlegging with a Ford spark coil using the call 2FL. It wasn't very long before he was visited by 2AFN, 2AIM and Ben Russ whose call he can not remember. All of these boys were members of the Bronx Radio Club so naturally Frank joined and eventually he became president serving three terms. The Club met in the basement of the home of Frank Frimmerman, 2FZ. The basement was very well furnished and made an excellent meeting place. Frank believes they had close to fifty members not only from the Bronx but also Manhattan and Westchester. Very often the club was visited by the Brooklyn Radio Club. Some of the names he still remembers from that club were Dave Tally and Uda Ross. (Frank says that Frank, 2FZ took him under his wing and they became very dear friends. A friendship which lasted many years until he passed away after attending the QCWA National Convention in Seattle. Frank and Sally also attended).
By this time Frank had gotten rid of the spark coils etc. and had built a Hartley oscillator with a UV210 and later a tuned grid tuned plate with a UV203, which was converted to a UV210 crystal oscillator driving a UV203A. This was the second crystal controlled transmitter in the second district.
Stanley P. McMin, Editor of Automotive Engineering magazine, had the first and he was responsible for talking Frank out of $2") for the one inch square piece of quartz that looked like a piece of frosted glass.
In the early 1920's Frank went down to the Customs House near the Battery in lower Manhattan. This was where the Radio Inspector's Office was located. Frank says there were about 5 or 6 of them taking the exam. The code was first, the omnigraph was set from the day before at 20 wpm, so when he heard this he put his pencil down and decided he would have to come back later. All of a sudden he says the code slowed down and after a couple of dah de dah's he picked up his pencil and copied SOS SOS SOS de KEIZ KEIZ KEIZ SOS SOS the rest he can't recall but he figures that's not too bad after all these years. The Rl came into the room and stopped at Frank's position, mumbled something and handed him some papers and went to the next position. He heard the RI say "sorry you're going to have to come back in a month". It was then that Frank realized he had passed the 10 wpm. After completing the exam he was 2AMJ and was able to keep this suffix for all these golden years of Amateur Radio.
The Manhattan Electric Supply Co., better known as MESCO, was the first company to make the dry cell battery known as Red Seal. They made spark coils, keys, HF buzzers and other wireless parts and they also became the first distributor for RCA parts, vacuum tubes and later a complete line of radio receivers beginning with Radiola One, Two and Three and still later the Superhets. Frank went to work for MESCO in about 1925 shortly after John DiBlasi, W2FX, the first QCWA President, left to start his own Rep business.
Frank says he really enjoyed working for MESCO as a Technician Salesman. He says the place was the daily meeting place of all the hams going to school in the area. He can safely say that one third of the Founders of QCWA were daily visitors.
While at MESCO one of the customers wanted to be able to hear his baby cry while he and his wife were out of the nursery. He asked Frank if he could build something that would do this. Frank thought he could and the first Crybaby Detector was built. A carbon mic was attached to the crib and a battery operated amplifier and a loud speaker in the living room completed the installation. Years later Zenith Radio made a much improved version of Frank's brainstorm.
In 1928 Frank left MESCO and joined Wholesale Radio which later became LaFayette Radio, Radio Wire and Television. He wound up as Chief Engineer and was responsible for putting them into the kit business and also for the design and manufacture of many receivers, transmitters, transceivers and VHF gear. One of his proudest moments was to invent the Les-Tet inverted Crystal Oscillator direct doubled frequency multiplier. He built two 150 MHz receivers for Major Armstrong and Dr. Picard in the early FM days. He was with LaFayette Radio for over 20 years. It was here that he met his wife Sally. They will be celebrating their 65th wedding anniversary this August. During the war Frank was Chief Engineer of Electronic Corp. of America, an offshoot of LaFayette Radio, and he was involved in many defense projects.
He was Chief Engineer of the Insuline Corp. of America and they were in Long Island City, a long way from Northern NJ, so when Stu Meyer, W2GHK, at the IRE show, wanted Frank to join him at Link Radio in Lower Manhattan he left Insuline and became Plant Manager of Link. Stu was Chief Engineer at the time. These were the final days of this company.
At about this time Frank got a call from Fred Sylvester who was sales Manager of Hammarlund. The two of them were old friends from LaFayette Radio. The result of that call was that Frank ended up as Sales Engineer and eventually as Sales Manager. He was responsible for getting Stu Meyer in as Chief Engineer and eventually as President. Frank says he really enjoyed working for Hammarlund and he made part of his job to put Hammarlund back on the map by attending most all conventions, manning the booth and as a speaker. He also sparked the design of SSB equipment.
As a result of a takeover and complete reorganization of Hammarlund he resigned and went out on his own as a sales engineer representative for Metropolitan New York with his main lines being Hammerlund and W2AU Products. He later became sales manager for W2AU before retiring to Florida. He got W4AMJ when he moved south.
Frank is still quite active on the air with daily skeds with ZS6KD and ZS6XP to whom he passes the solar flux numbers. He also stands by for any other DX and checks into the QCWA National Net on Sunday as well as joining W2CVF, Ralph and friends every Thursday.
Frank is a former member of the Bronx Radio Club, Rag Chewers Club, Past President of Five Meter Amateur Radio Assn. of Northern NJ, Horsetraders and Gold Coasters. He is a life member of QCWA, Past President of his local Chapter of QCWA, Life member of ARRL, EARS and OOYC. He is also an Honorary Member of RSGB and Arabian Knights. W4COW
| | | |
| --- | --- | --- |
| QCWA Journal | Summer 1997 | pg 54 |