NM6K - 23 April, 2003

---
Arthur Bolton

From 6AGY To NM6K In 80 Years - By Gerry Tucker - N6NV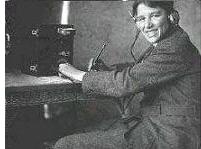 A Boy Scout Handbook provided the early trigger for Art's first interest in learning the code. In the early part of 1920, Art and a neighbor, Bob Hatfield, strung a #12 galvanized wire between their houses in Berkeley, California and proceeded to work on what was then just a love of Morse code and the new electronics technology. Like any 13 year old Art says he spent many a night under the covers with a flashlight reading the Electro-Import Company catalog and other magazines on this hot new technology called radio. Using galena detectors they would listen to the coastal Navy station at Bolinas, California, honing their skills on the Morse messages.
In October of 1920, Bob and Art went to the 2nd San Francisco Radio show. One of the booths was sponsored by the FCC, and after asking a couple of questions, the examiner encouraged him to take a license test then and there. Ten wpm was required and Art passed the test on the spot. The system must have worked pretty efficiently back then, because his license arrived a month later in November. The two letter calls had by that time already been taken, by the 'key people,' and Art's call came in as 6AGY. A short time later it became NU6AGY, and later still W6AGY.
Art built a one-tube receiver and his first transmitter had a straight gap, but was quickly improved upon with a rotary gap. Bob's father was a Professor at UC Berkeley and had access to 'throw-away' parts from the station at Bolinas, and these provided a rich source for Art's early home made equipment. Art has no trouble remembering the calls of such early hams as 6AN, who had a beautiful 500-cycle note using some much sought after Navy surplus equipment. He recalled Colin B. Kennedy, 6KN, (and his wife Sophie, 6SK) who came out with a regenerative receiver with a tickler coil, (also one of the author's 1st radios!). Then there was Carroll Steffan, 6EX, who had a 1kW rotary spark gap. There was Harold Babcock, 6BK, and living across the street was Harold Silant, 6HN, who heard the first human voice over the radio in Art's Berkeley neighborhood. Down the street was 6HM, so we can see that the area around the university was a hotbed of early ham activity. Art, ever the technologist, moved on to phone about '22 or '23. These must have been the 'good old days' of ham radio and, to hear Art talk about it, he relished every minute of it.
Around 1926 Art and a friend from the Carmel, California area were attending the recently opened College of San Mateo and decided it should have a college amateur radio station. They were allowed to set it up in an old house on Ninth Avenue near Baywood Park, which served as an annex to the original college site before it moved to the Baldwin High School site. Their transmitter used an 802 final, which was good for 30 to 50 watts. Art recalls the original college license as 6JC, and as the transmitter location moved with the progress of the college it was variously 6JU, 6YU, and finally the present PBS broadcast station KCSM.
Art let his license lapse in the late 30's, marriage and a working stint in New York and Chicago keeping his mind on other issues. On returning to California around 1942, Art renewed and got the call N6FQK. He and his wife Dorothy moved from Berkeley to Menlo Park in 1949, where he quickly set up a Ham Shack in the back yard. In a break with tradition, Art went looking at the local Ham store for a couple of books he wanted and 'accidentally' returned with ICOM 702. It was his first non-home-brew rig! About 1975, and thinking his call might raise eyebrows if used on a DMV license plate, Art persevered with two trips to the FCC and finally passed his Extra class test, receiving his present call, NM6K.
In 1986, Art and Dorothy took a trip to Egypt on a freighter that carried a small number of passengers. Art had his 'new' rig with him and was allowed the use of the radio room from midnight to 8AM. He admits, some nights he " didn't get much sleep!" Obviously, over the years Art has gotten a lot out of ham radio and contributed a lot to it. Art is a long time member of the Palo Alto Amateur Radio Association, and still attends most of the monthly meetings.
In March 2001, Art was brought to the Chapter 11 luncheon for a surprise 80-Year plaque presentation by Chapter-11 President Jim Williams (K6HIO).
---
from The Palo Alto Weekly



Arthur "Art" Bolton, 96, a 50-year resident of Menlo Park, died April 23. Born in Berkeley, Calif. on Oct. 30, 1906, he received his bachelor's degree from UC Berkeley and his master's degree from the University of Michigan. Most of his subsequent career was spent in sales, but his passion was for ham radio. At the age of 14, he passed the FCC Morse code test and received his operator license, eventually becoming Operator NM6K. A member of the Palo Alto Amateur Radio Association, he was awarded a plaque in 2001 honoring his 80-year membership.

Remembered for his lively wit, quick puns, prodigious memory and curiosity about all things mechanical, he is survived by his wife of 66 years, Dorothy Hall Bolton, an accomplished local artist.