NA4U

Thomas L. 'Tom' Evans
Denton, NC

QCWA # 37170
Chapter 126
---
Ham since 1959. Novice (59), Tech (early 60s), Conditional (mid 60s), General (late 60s), Advanced (70s), and Extra (1980-present). Other callsigns KN4SOM, K4SOM (North Carolina), GM5AOR (Scotland), & KA2TE (Japan). ARRL Life Member/FISTS 15647/SKCC 3628/Tri-County Amateur Radio Club of North Carolina NC4AR & Healing Springs Mtn VHF Society W4PAR /SVHFS/QRPARCI/FPQRP

WSPR: HP Z-3801A GPS locked FLEX-1500. 43' Zero-Five vertical with two 30' #12 "wings" at 15'. MFJ-993B auto tuner, LP-100A vector power meter.

HF/6: FT-950, IF-2000, LP-PAN, EMU-0202USB, SB-1000, 132' dipole@ 50', MasterKeyer MK-1, MD-100 mic.

FUSION: Yaesu Ftm-400dr

D-STAR: ICOM ID-51A

VHF/UHF/uWave: ICOM IC-9100 w/UX-9100 w/D-STAR Create 50-1300 LPA.

Past VP of Trident Amateur Radio Club (TARC) N4EE.

Past President/Secretary and QSL Manager, Low Country Contest Club (LCCC) NU4SC.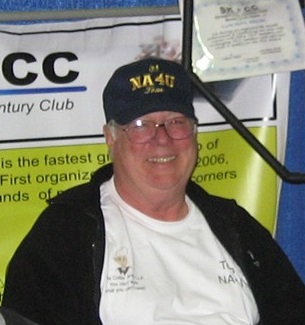 September 07, 2016