N6PCD

Kenneth W. Campbell
Upland, CA

QCWA # 37557
Chapter 7
---
Hello Visitor!

Thanks for taking a look at my page. I always appreciate the folks who stop by.

I'm an Amateur Extra class licensee. I was first licensed in 1987 as an "old rules" Technician. For any newbies, that was the original iteration of the class wherein one was required to pass a 5 WPM CW receive test, by either answering enough questions on a written test about the message sent, or have at least one minute of solid copy. The written part was from the general exam. I was a solid copy CW guy. As I remember I missed the written test by one. Oh well it was all good!

Nowadays I spend most of my HF time on the digital subbands on PSK 31. As we live in an antenna restricted condo, this mode has been HUGE in my pursuit of the hobby. Here's the station:

Transceivers: icom IC-7300, IC-7000, IC-730 (I'll post an updated photo soon!) HF antenna: Comet CHA-250B vertical at 10 feet, (3.04M) AGL, VHF/UHF antenna: Diamond x500 HNA ground plane also at 10 feet AGL, surrounded by two-story buildings. My computer is a Dell XPS Gen 4, 3GHz processor, Windows 7 Pro, MixW 3.30, N3FJP AC Log, and the computer interface is a RIGblaster Pro. We also have a high noise level, with phone & power lines about 40 feet from the antennas. God Bless our HOA for letting me put up the antennas!

As you can see, I barely qualify as a "little pistol" station! Nevertheless, I've worked all fifty states, all continents, and am over half way to DXCC. That's with only a casual effort as time allows. The upshot here is, DON'T BE DISCOURAGED if you don't have a beam up 60 feet and a full legal limit amplifier! There is still lots o' fun to be had, and most basic awards are within your grasp.

Again, thanks for stopping by, and I hope to see you on the bands.

God bless, 73 es DX!!!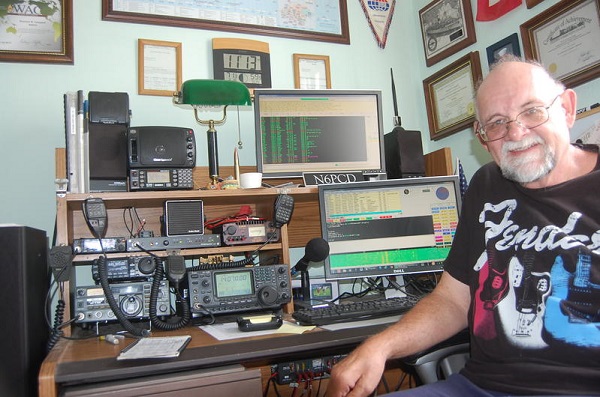 December 08, 2017